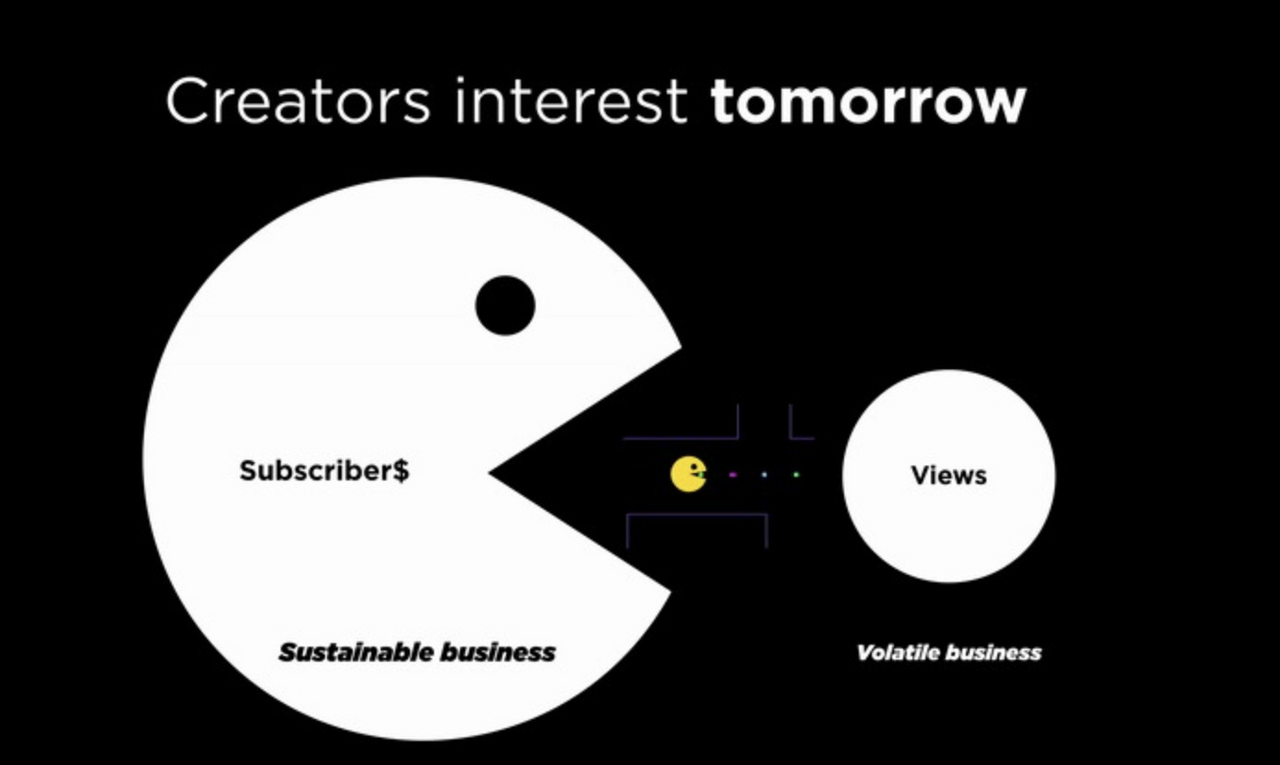 Over the last year we have been developing a promising membership platform to be able to manage the relationship of creators with their audiences, along with a payment gateway that will feature the ability to pay and receive payments with standard payment models and cryptocurrencies.
The premiere aims to empower this model for the great positive impact it brings with it and enable media companies and content creators to build sustainable businesses, given the difficult and volatile world created by the age of views.

We do not have a specific launch date scheduled, but we expect that feedback from beta testers and iterations will be necessary before the VAVEL Subscription Platform be ready for the general public. All we can say, is that it is near.
The problem in Media creation is the following and it repeats itself constantly
A creator finds with 1.000.000 views in the current month which he monetizes between 1000$ or 3.000$ depending on the country, but then Youtube, Google or the organic provider changes its algorithms and they and their views disappear.
1.000.000 views no monetize as expected in an effort-award relation, 400 subscribers will monetize an own suistainable salary
This company or the creator is suddenly out of any way of competition, in a kind of limbo and the next month earns 90% less. Many people believe this must be changed. Compared to the millionaire figures of the views, so expensive and elusive, with only 400 subscribers, which is a medium-term affordable bet for any creator in the world, will generate a base of $1,500-2,000 per month and never lose a base of 90% of subscribers as with the views, if not it will be a form of regular income and infinitely more stable.
What is coming in VAVEL
The platform, aka Super-platform as it will allow several ways of produce media from a place, will allow creators to have their own area and space to publish articles, live events, videos and podcasts on it.

The possibility of viewing the videos, articles or podcasts will be selected by each creator, who will be able to create several subscription levels and will be able to publish their content publicly and openly or only for their "supporters".
Revenue sharing 70 / 30 + extra income of 5% of each account that registers coming from you.
The platform has a referral program through invitations. For the creators or companies that invite other creators VAVEL will give them 5% of their income (which will be provided by the part of the platform). From the payments the creator will get 70% of the income and the platform 30% (25% in case of a referral). So if a person generates $10,000 per month, the account that referred him/her will be paid $500 per month. These payments will have the possibility of being remunerated in cryptocurrencies if is selected in this way, in a way to avoid local FIAT depreciation.
Pay per view available for live streaming, events, videos, articles or podcasts
Content will can be also sold individually through Pay Per View, where the creator selects the price to pay for viewing or listening to a single video, live streaming, article or podcast. Ideal for conferences and exclusive content.
Useful functionalities: list of subscribers and chat available
Creators will have a creator panel with several useful functionalities, including an internal chat for fluid contact with their supporters or the automatic sending of emails by the platform when publishing new content or making any relevant change. The panel will make communication easy and will focus not only on the creation of new subscribers, but also on the convenience of retaining them.
Integration with the current payment on the platform and will have initial partners
If VAVEL's current authors have always received a revenue share on the content where it has been monetized, we hope that the culmination with the premiere, can help many people who have long been waiting for a space that allows them to create all kinds of content freely and monetize them. In addition, we will have several partnerships with large business groups within the media sector.
The hosting of their videos, podcasts and articles will be free for the creator in this initial phase
The registration as a creator on the platform will be accessible by invitation (which in the beginning you can request to a person who already has an account or request it here).
Working on the translation of audio into video to encourage international monetization
We have started experimenting with a project that is tremendously exciting to achieve, based on the translation of the audio of the videos to other languages respecting the tone of the speaker by AI, allowing us to create a turning point on the markets that can be addressed by a creator, since in this case, for example, a Yoga instructor would go from having a potential audience in his language to convert his subscribers to an international audience, making his monetization possibilities exponential.
VAVEL Subscription Platform is near to democratize media, content and its monetization.
How test VAVEL Subscription Platform Today?
You can already request your access by writing to this email address: [email protected]
See you soon!
The VAVEL Team