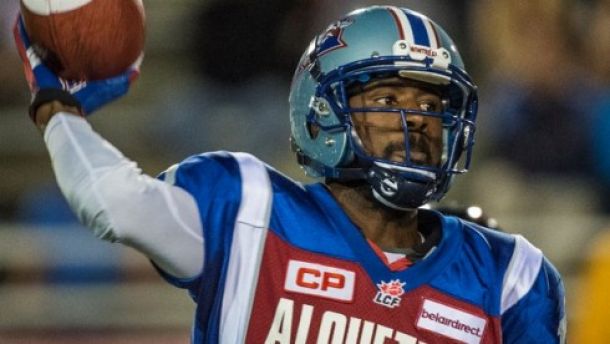 According to information from the league, this season has already seen more league-wide high-powered offense than last season; scoring is up 15% since last season and yards per game is up 11%. After another week of high-scoring games and pure offensive duels, it looks as though these trends will continue. In Week Two we saw multiple instances of one team dominating their opponent, another offensive duel in Regina that went down to the wire and yet another injury to a quarterback; Canadian Football League excitement seems here to stay.
Top Storyline
It's hard to narrow this down to one storyline after all of the events that took place between July 2 and July 5 in the CFL, but Rakeem Cato is certainly deserving of the honor. Making his first ever start in the CFL, Cato not only led the Montreal Alouettes to an impressive and comfortable win over the defending champion Calgary Stampeders, but he looked great doing it. The product from Marshall University completed 80% of his passes for 241 yards and 3 touchdowns on Friday night as Montreal blew by Calgary 29-11.
There was controversy throughout the week about who would start for the Als on Friday, with the decision to go with Cato or Canadian-born Brandon Bridge being the topic of discussion league-wide by fans and media alike. No Canadian QB has started a game in Canada since October 1996, and a Bridge start would have ended that drought. The decision to go with Cato turned out to be the correct one, however, as the Alouettes dominated all game long. It's impossible to say whether or not Cato can replicate this performance as the season goes on and into the distant future, however anyone who saw him sling the ball around the field at Marshall knows exactly how dominant he can be when at the helm of an offense. Don't be surprised to see Rakeem Cato step up as one of the next great CFL quarterbacks.
Top Performance
As was the case for the Top Storyline this week, there are plenty of worthy candidates for the Top Performance. The aforementioned Rakeem Cato, Zach Collaros' 350+ yards passing, Tyrell Sutton's great day running the ball, Ryan Smith's career game against Toronto; all are very worthy candidates. The top honor, however, goes to veteran pivot Kevin Glenn, who despite not leading the Roughriders to a win, had a remarkable game for Saskatchewan. Not only was he the league's leading passer in Week Two, but he also climbed to seventh place all-time in CFL passing yards, surpassing Matt Dunigan late in regulation. The Riders are now 0-2, but much of the concern many fans had about starting Glenn in place of the injured Darian Durant likely dissipated with this week's monstrous performance.
| | | | | | |
| --- | --- | --- | --- | --- | --- |
| Attempts | Completions | Comp % | Yards | TDs | Passer Rating |
| 40 | 33 | 82.5 | 477 | 2 | 122.6 |
Top Canadian
The Ottawa REDBLACKS continue to impress (and potentially shock) the league, as the young franchise has played extremely well through the first two weeks. Wide Receiver Brad Sinopoli was a huge part of the Ottawa offense Saturday night, netting the most yardage of any Canadian in the league for the whole week. The CFL's leader in receptions in Week Two, Sinopoli is turning into a reliable and potent weapon for Henry Burris, and there connection could prove vital to the success of the Rouge et Noir as the season progresses.
| | | | |
| --- | --- | --- | --- |
| Catches | Yards | YPC | Touchdowns |
| 9 | 99 | 11 | 1 |
Game Recaps
Hamilton Tiger-Cats 52, Winnipeg Blue Bombers 26
To put it simply, the TiCats dominated the Bombers throughout the entire game Thursday night. All three phases of the game were won by Hamilton, as Winnipeg struggled after losing Drew Willy to an injury, who was forced to leave the game early on (however he has been cleared to play versus Montreal next week, according to CJOB Radio's Bob Irving). Offensively, Hamilton ran roughshod all game long, totaling up over 400 yards of offense despite a second straight week of effectively no running game (last week they ran for 37 yards, this week just 27). The Tiger-Cats defense and special teams also each contributed to final score, as the TiCats returned two interceptions for touchdowns and Brandon Banks also returned a punt for a touchdown for the second consecutive week. Brian Brohm replaced the injured Willy, completing 57% of his passes for 148 yards in the losing effort for the Bombers. Paris Cotton was the game's leading rusher with 46 yards and a major on the ground.
| | | | | | |
| --- | --- | --- | --- | --- | --- |
| | Total Yards | Passing Yards | Rushing Yards | TDs | Turnovers |
| Hamilton - 52 | 422 | 395 | 27 | 6 | 1 |
| Winnipeg - 26 | 263 | 194 | 69 | 3 | 3 |
Calgary Stampeders 11, Montreal Alouettes 29
In perhaps the biggest shocker of the weekend, Montreal simply outplayed the heavily favored Calgary at Molson. Along with Rakeem Cato's highly-impressive debut as the Als' starting pivot, Tyrell Sutton had a huge day on the ground, netting 134 yards, tops amongst all running backs this week. On the opposite side of the field, Bo Levi Mitchell played a decent game but still has not had a performance that many expected he would be capable of putting up early this season. The Alouettes defense held Mitchell to under 250 passing yards whilst also forcing him to focus on one main receiver throughout the game; Marquay McDaniel led the Stamps in receiving yards and caught nearly 43% of the team's total passing yardage output. This matchup has given Montreal reason to believe in the backfield combination of Cato and Sutton, while it has given Calgary some potential issues to be concerned about, building on last week's nail-biter against Hamilton.
| | | | | | |
| --- | --- | --- | --- | --- | --- |
| | Total Yards | Passing Yards | Rushing Yards | TDs | Turnovers |
| Calgary - 11 | 331 | 263 | 68 | 1 | 1 |
| Montreal - 29 | 397 | 241 | 156 | 3 | 0 |
BC Lions 16, Ottawa REDBLACKS 27
With all of the surprises around the league so far this season, Ottawa's resounding success so far may be the biggest. The CFL's newest franchise is now 2-0 to start the season after picking up an impressive win over the Lions. While it is clearly too early to make any real projections about the way the rest of the long CFL season will unfold, Henry Burris seems to be having a bit of a career resurgence thus far in 2015. After one of the worst seasons of his career in 2014, Burris had another good performance on Saturday, putting up nearly 300 yards with 3 touchdowns. He had plenty of help from his offensive weapons, as Chevon Walker rushed for 100 yards on the day and, as previously mentioned as this week's Top Canadian, Brad Sinopoli had a big week catching the ball. Travis Lulay had a fine day, all things considered, in BC's first game of the season this week. He completed 56% of his passes with a major score and an interception to his credit in his return after an injury-plagued 2014 campaign. BC's Emmanuel Arcenaux was the game's leading receiver with 112 yards.
| | | | | | |
| --- | --- | --- | --- | --- | --- |
| | Total Yards | Passing Yards | Rushing Yards | TDs | Turnovers |
| BC - 16 | 313 | 254 | 59 | 1 | 1 |
| Ottawa - 27 | 437 | 296 | 141 | 3 | 1 |
Toronto Argonauts 42, Saskatchewan Roughriders 40
It's becoming a trend to have offensive shootouts in Regina so far this season, and fans cannot be too upset about that. That is unless you are a Saskatchewan fan, as the Riders are now 0-2 through 2 such games this season at home. It was a highly competitive game, as it took two overtime periods to finally decide the winner. Tori Gurley ended up receiving the final Argonauts touchdown from Trevor Harris, setting up the game-winning two-point conversion by Anthony Coombs (again via the pass). The Riders scored quickly on their subsequent drive, but were not able to convert for two points, giving the Argos the victory. Trevor Harris continues to play well in place of the injured Ricky Ray, throwing for 4 touchdowns and amassing a passer rating of 120.1 on Sunday night. Chad Owens led the Argos in receiving with 8 catches for 88 yards and a touchdown. This week's Top Performer, Kevin Glenn, played impressively well in the loss, totaling 477 yards through the air. Saskatchewan's National running back Jerome Messam led all rushers on Sunday with 88 yards on the ground, and young wide receiver Ryan Smith led all receivers league-wide for the week with 174 receiving yards on 8 receptions.
| | | | | | |
| --- | --- | --- | --- | --- | --- |
| | Total Yards | Passing Yards | Rushing Yards | TDs | Turnovers |
| Toronto - 42 | 367 | 267 | 100 | 5 | 1 |
| Saskatchewan - 40 | 587 | 477 | 110 | 4 | 2 |