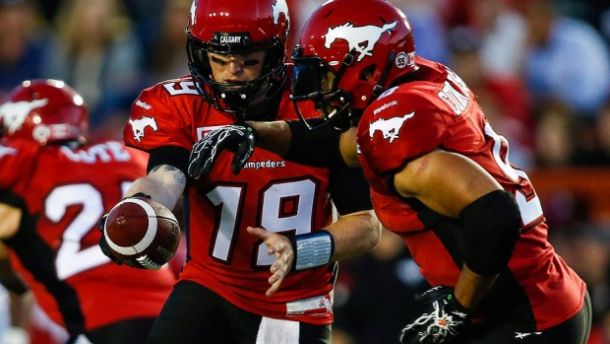 Week Three's edition of Thursday Night Football was a game that could have been construed as setting the tone for the entire weekend. Edmonton obliterated Ottawa, giving them their first loss of the season. However, the remaining three games of the weekend did not replicate the blowout from Thursday night; instead, the fans were treated to a trio of games that came down to the wire. Exciting finishes has become the norm in the Canadian Football League, and from Winnipeg to Vancouver to Calgary, the trend continued in Week Three.
Top Storyline
There were many contenders this weekend for the title of Top Storyline. The fact that Saskatchewan is 0-3 despite putting up huge point totals and coming within one possession of victory each week so far was a strong candidate. As was the return to form for Bo Levi Mitchell, who put on a show Monday night as Calgary picked up a victory over the previously undefeated Argonauts of Toronto. However, this week's Top Storyline revolves around a team that had arguably the worst week of any, and that is the Ottawa REDBLACKS.
There is no shame in losing a game in a league as competitive as the CFL. There is plenty of great talent on each team and in an 18 game season, it's not surprising to lose a few games, in fact it's almost impossible not to. But Ottawa, who entered the week 2-0 after only winning 2 games all of last season, was seemingly exposed by the Edmonton Eskimos. The offensive and defensive units for the Esks both played well, but Ottawa looked lost, slow and completely outmatched for the entire game. The REDBLACKS put up just 221 total yards, only 25 of which came on the ground. In a league dominated by offense, unless you're mired in a fluke of game, you will rarely if ever win with such a weak offensive output. Henry Burris looked like an old quarterback. The offense could not put together a successful string of plays for most of the game. The Rouge et Noir couldn't even score a single major on offense, and without a bizarre defensive touchdown, the score would have been even more lopsided. It's too early to predict how the remaining 15 games on Ottawa's schedule will turn out, but if they continue to perform like they did on Thursday against the Eskimos, it will be another ugly season for the REDBLACKS.
Top Performance
The Montreal Alouettes could not pull out a last-second victory on Friday night against Winnipeg, and in the same game Rakeem Cato came back to Earth a bit after a phenomenal first start in Week Two. Nonetheless, SJ Green had an absolute monster of a game, compiling 180 yards on 6 receptions. After gaining just 105 yards through the air in Montreal's first two games, Green showed the world once more why he's one of the best receivers in the business. As Rakeem Cato continues to develop, Green will undoubtedly be a top target, considering his reliability and also his big play ability. If he has more weekends like the one he had in Week Three, the Cato to Green connection is going to dominate defenses league-wide all season long.
| | | | |
| --- | --- | --- | --- |
| Catches | Yards | YPC | Touchdowns |
| 6 | 180 | 30 | 0 |
Top Canadian
It was a weak set of games for rushing offenses across the league in Week Three, however the top gainer of all backs was a Canadian. Jerome Messam continues to impress fans, media and coaches alike as the featured back for the Saskatchewan Roughriders, as he put together another solid game, this time against the BC Lions. The Riders' offense this season is featuring less of a focus on the run than it has in recent memory, but a steady running game is still important to a wholly successful unit. Messam's bruising style and surprising speed is a great complement to the team's finesse air attack. If he can stay healthy, he will be vital to Saskatchewan down the stretch. He is this week's top rusher and is also the Top Canadian.
| | | | |
| --- | --- | --- | --- |
| Carries | Yards | YPC | Touchdowns |
| 8 | 85 | 10.63 | 0 |
Game Recaps
Ottawa REDBLACKS 17, Edmonton Eskimos 46
This game was hard to watch at times, mostly due to just how stagnant the Ottawa offense was. They assembled a solid opening drive, which lasted for nine plays but brought them no points, and it was essentially over from there. Edmonton scored almost at will throughout the first half, eventually taking a 25 point lead at halftime. The lead would have been even larger if not for a ridiculous touchdown on defense late in the half, which in fact ended a shutout. Matt Nichols had a fine game for the Esks, racking up 212 yards on 12/21 passing, with 3 touchdowns and an interception. Adarius Bowman was the game's leading receiver, netting 120 yards and a touchdown for Edmonton. Henry Burris struggled to move the Ottawa offense, gaining just 162 yards through the air on Thursday night. Chevon Walker led the REDBLACKS in rushing with a mere 16 yards on 6 carries.
| | | | | | |
| --- | --- | --- | --- | --- | --- |
| | Total Yards | Passing Yards | Rushing Yards | Touchdowns | Turnovers |
| Ottawa - 17 | 221 | 196 | 25 | 1 | 2 |
| Edmonton - 46 | 376 | 253 | 123 | 5 | 3 |
Montreal Alouettes 23, Winnipeg Blue Bombers 25
It was an exciting game in Winnipeg as the Bombers held on to a slim lead as time expired, despite a ferocious comeback attempt by the Als. Winnipeg led by nine points entering the fourth quarter, before Tyrell Sutton scored a major for Montreal. After a field goal for each team, the Alouettes had one last shot at a win, but the Blue Bomber defense stepped up big time, shutting down Rakeem Cato's passing lanes and playing fantastic defense on a pass intended for SJ Green on third down. Cato played a fine game but was much more human than in his debut as a starter, completing 22/31 passes for 317 yards with 2 interceptions, giving him a 76.9 passer rating for the game. VAVEL Top Performer for Week Three, SJ Green, had a fantastic game, as previously noted, leading all receivers in yards this week. Drew Willy passed for 251 yards on Friday without throwing for a touchdown or an interception. He also led the Bombers in rushing with 28 yards on 3 carries.
| | | | | | |
| --- | --- | --- | --- | --- | --- |
| | Total Yards | Passing Yards | Rushing Yards | Touchdowns | Turnovers |
| Montreal - 23 | 433 | 317 | 116 | 2 | 3 |
| Winnipeg - 25 | 324 | 251 | 73 | 2 | 0 |
Saskatchewan Roughriders 32, BC Lions 35
It has been a remarkable season so far for Saskatchewan, and not in a positive way. The Riders are 0-3 and despite putting up big offensive numbers on a weekly basis are also developing a tendency to snatch defeat from the jaws of victory. Saskatchewan led by as many as 11 in the fourth quarter (with under 2 minutes left on the clock) before Travis Lulay helped lead a fast and furious rally to get the Lions back into the game. Lulay led the Lions down the field and tore up a conservative Rider defense, eventually connecting with Austin Collie for a major. After the Roughriders could not convert on a third and short try, BC was able to get into position for a long field goal, which was nailed by Richie Leone, sending the game to overtime. In OT, Saskatchewan settled for a field goal on their first possession, while BC was able to score a touchdown on a pass from Lulay to Emmanuel Arcenaux, finishing off a strong comeback at BC Place.
It was a strangely called game by Roughriders head coach Corey Chamblin. He played fast and loose at some points, such as going for a third down conversion on their own side of the field late in the fourth, then not calling a timeout prior to Leone's kick. He countered this by going very conservative after the field goal, electing to kneel the clock out and play overtime, and then not trying to score a touchdown on third down in the extra period, instead settling for a short field goal. This game also featured a penalty against BC for arguing for a penalty and signaling that a flag should be thrown; this call drew the ire of many watching the game across social media.
| | | | | | |
| --- | --- | --- | --- | --- | --- |
| | Total Yards | Passing Yards | Rushing Yards | Touchdowns | Turnovers |
| Saskatchewan - 32 | 442 | 271 | 171 | 4 | 1 |
| BC - 35 | 480 | 404 | 76 | 3 | 0 |
Toronto Argonauts 20, Calgary Stampeders 25
After a (frankly stunning) defeat on the road against Montreal last week, the defending champions bounced back this week as the Stamps took down the Argos on Monday night. Toronto held a 7-0 lead after the first quarter, but a 22-point outburst in the second was enough for Calgary to grab the lead and never relinquish it. The Stampeders defense played well, holding the Argos under 300 total yards on the evening. Toronto had a chance to score at the end of the game, but a series of erratic passes by Trevor Harris prevented the Argonauts from approaching the end zone. Harris had a decent game, passing for 223 yards and 2 scores, with an interception as well. Tori Gurley and Kevin Elliott hauled in the two Argos major scores. Bo Levi Mitchell excelled on Monday, passing for over 300 yards while completing 73.5% of his passes. Eric Rogers was the game's leading receiver, gaining 114 yards on 6 receptions for the Stampeders.
| | | | | | |
| --- | --- | --- | --- | --- | --- |
| | Total Yards | Passing Yards | Rushing Yards | Touchdowns | Turnovers |
| Toronto - 20 | 267 | 223 | 44 | 2 | 2 |
| Calgary - 25 | 393 | 303 | 90 | 3 | 2 |