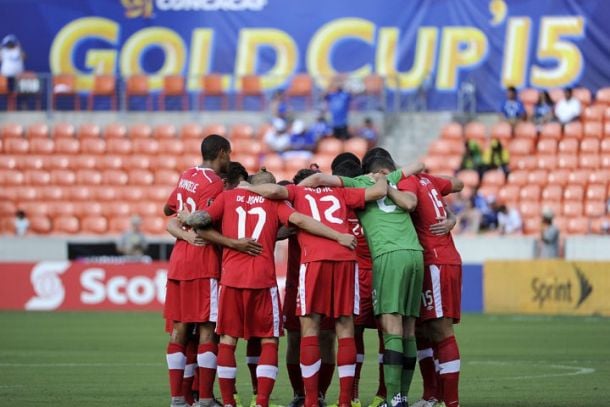 Canada's participation in the 2015 CONCACAF Gold Cup came to an abrupt end in the group stage after settling for a scoreless draw against Costa Rica in a must-win match on Tuesday night at BMO Field in Toronto.
With two scoreless draws and a 1-0 loss, the Canadians finished at the bottom of Group B and were left to weep over their own self-pity. No, not because they failed to win a game. Rather, because the Canadians failed to score a goal. In fact, they have now failed to score in six straight Gold Cup matches dating back to 2011.
First, Canada played El Salvador to a scoreless draw on July 8. Then Jamaica stunned Canada 1-0 with a late winner on July 11. Going into Tuesday night's clash with Costa Rica, Canada needed to win. However, to win is to score and to score is something Canada can't quite seem to do in recent Gold Cup play.
However, it isn't for a lack of shooting, as Canada had a myriad of opportunities to find the back of the net. But shooting is one thing and finishing is another. If it wasn't already apparent, it is now – Canada lacks a developed striker.
Canada's performance at the Gold Cup was both heartbreaking and frustrating. Overall, Canada had a fairly strong defensive performance in the tournament (aside from some poor marking on Jamaica's late tally).
Canadian head coach Benito Floro will likely take a lot of heat for Canada's overall performance. Leaving Canada's most creative young midfielders, Jonathan Osorio and Russell Teibert, on the bench for the majority of the tournament did not bode well with the Canadian soccer faithful.

However, aside from that, Canada's player pool wasn't as deep as it could have been in the tournament. With the Reds missing key players like Atiba Hutchinson, Will Johnson and Doneil Henry, Floro had to work with what he had.
As a result, Canada's bench boss tried to focus on structure, tactics and utilizing his players' skills properly. He had a plan going into the tournament and a few unlucky breaks and poorly placed shots resulted in an early elimination.
"We didn't quite do enough attacking wise to move on in the competition but on another day we probably could have got the goals and moved forward," said Canadian defender David Edgar after Canada was eliminated from the tournament.
Edgar's statement certainly holds some truth.
For instance, if forward Cyle Larin converted on his glorious opportunity against El Salvador and Canada subsequently won that opening game, that would have been enough to put the Canadians into the quarter-finals. However, to be fair, in hindsight it is impossible to predict how the rest of the group would have fared if Canada had won that game.
Nevertheless, that is in the past now. Larin will bounce back and he will be fine. The 20-year-old Orlando City SC striker has a very promising career ahead of him. A few more years of experience and who knows what he can bring to the Canadian table. The same goes for Canadian forward Tesho Akindele.
Instead of lamenting about the past, it is more important to look to the future and, speaking more positively, there are some good things that Canada can take from this tournament.
The 103rd-ranked Canadians played well against 41st-ranked Costa Rica on Tuesday, holding the team's strongest competitors off the scoresheet. Canada almost scored on numerous occasions as well.
Canada also conceded only once in three contests. Canadian goalkeeper Kyriakos Stamatopoulos was arguably Canada's best player in the tournament. He made 16 out of a possible 17 saves.
The Canadians proved that they have the ability to be competitive against other strong CONCACAF teams. Despite failing to score, this was a much better effort than Canada's 8-1 shellacking at the hands of Honduras a few years back in 2014 FIFA World Cup qualification.
There is definitely a brighter spark now. With some new and youthful players, there seems to be a greater sense of urgency and a stronger desire to win. It was visible on the players' faces throughout the tournament. With more international experience, good things will hopefully begin to resonate for this exasperated Canadian squad.
Now the Canadians need to channel the positives and look ahead to the next round of 2018 FIFA World Cup qualifiers. The Reds have identified their weaknesses, now they need to address them, put the past behind them and focus on what lies ahead.
There is no denying that the road to success will be a long and tedious one for Canada's soccer program. It will take several more years before Canada can pen a squad with high potential, but it is a road worth committing to and a road Canada has already started exploring.