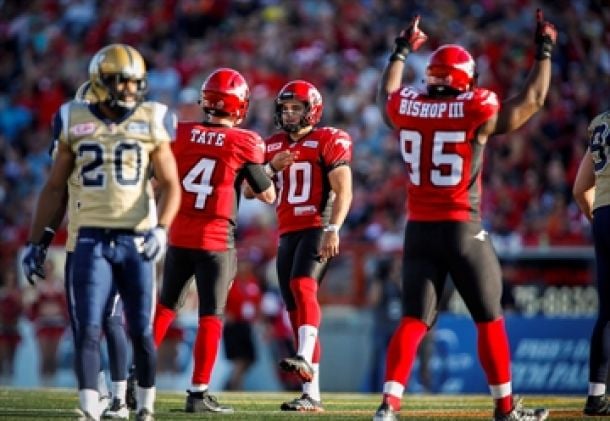 The Canadian Football League is filled with surprises every single season. This year we have had plenty of them and we're only four weeks in. The nearly-unanimous favorites to win a second straight Grey Cup, the Calgary Stampeders, have had to scratch and claw to pull out wins several times already. The Saskatchewan Roughriders, another favorite to make a title run, have not won a game yet. One of the biggest stars in the league so far this season has been a rookie named Rakeem Cato from Marshall University. The CFL is a wild ride year in, year out; 2015 is no exception.
Top Storyline
As previously mentioned, the Saskatchewan Roughriders were one of the favorites entering this season. As also already mentioned, the Riders are winless so far in 2015. It's stunning really, that even with the loss of starting quarterback Darian Durant, a team as talented as the boys from Regina can not pull out a win. Not only are the Riders the last place team in the West Division, but they are last in the entire CFL.
What is possibly the most incredible thing about the slow start for Saskatchewan is that each game has been decided by just one score. It's not that the Roughriders are a bad team, but they just cannot finish games. This week the team needed to come back to win, they couldn't complete it to win. They had a golden opportunity to defeat BC one week prior, they couldn't seal the deal. It's a combination of execution, coaching and luck, but the Riders had better figure things out quickly, because while there is still over three-fourths of the season left, it will only get harder to crawl out of the basement and into the playoff picture.
Top Performance
In a morbid way, the fact that Travis Lulay has remained healthy so far through this season is pretty remarkable. After all, the league saw pivot after pivot go down in the first couple weeks of the season, and now the oft-injured Lulay is thriving. BC's quarterback had a big day against the Roughriders, and not just through the air. In addition to 127 yards and 2 touchdowns through the air, resulting in a 106.6 passer rating, Lulay was the CFL's third leading rusher in Week 4, racking up 105 yards on the ground on just 6 carries. You can't expect Travis Lulay to tear up opposing defenses with his legs every week, but if he continues to perform well, the Lions could be a very dangerous team all season long, especially while Saskatchewan is mired in a major slump.
| | | | | | | |
| --- | --- | --- | --- | --- | --- | --- |
| Attempts | Completions | Passing Yards | Carries | Rushing Yards | Total Yards | TDs |
| 21 | 12 | 127 | 6 | 105 | 232 | 2 |
Top Canadian
The CFL has been waiting since the season started for Jon Cornish to break out, and he did just that in Week Four. Racking up the second most yards on the ground of any player this week, Cornish was a big factor in Calgary's slim victory over Winnipeg. For the Stamps' sake, this is hopefully a good sign for Cornish and the team. They will need the former MVP to play at the highest level if they wish to repeat as champions. There's a long way to go, but this was a big week for Calgary's star running back.
| | | | |
| --- | --- | --- | --- |
| Carries | Rushing Yards | YPC | TDs |
| 15 | 120 | 8 | 0 |
Game Recaps
Hamilton Tiger-Cats 13, Montreal Alouettes 17
The final score was close at Molson, but one key statistic was heavily in favor of the victorious team: turnover margin. Hamilton turned the ball over four times against Montreal, preventing them from taking advantage of Montreal team that frankly wasn't lighting up the scoreboard. Zach Collaros did not have a spectacular day for the TiCats, passing for 296 yards and a touchdown, but the Hamilton pivot also threw three picks to the Als' defense. The Tiger-Cats continue to struggle with the ground game, as they racked up a better yet still somewhat weak 85 total team rushing yards. Rakeem Cato continues to perform well, although not spectacular this week, as he passed for 264 yards and 1 major, while also leading the team in rushing yards (with a measly 30 yards gained). Fred Stamps was the game's leading receiver, gaining 119 yards on 7 receptions.
| | | | | | |
| --- | --- | --- | --- | --- | --- |
| | Total Yards | Passing Yards | Rushing Yards | Touchdowns | Turnovers |
| Hamilton - 13 | 388 | 303 | 85 | 1 | 4 |
| Montreal - 17 | 319 | 264 | 55 | 1 | 0 |
Edmonton Eskimos 23, Ottawa REDBLACKS 12
It seems like just yesterday that we were talking about whether or not the REDBLACKS are real contenders. That just goes to show you that you can't make too many predictions right off the bat in the CFL season, because for the second straight week Ottawa struggled mightily. Even as Edmonton's Matt Nichols had a mediocre at best day, Ottawa was inept offensively and couldn't keep the game within reach. Shakir Bell was the game's real star, racking up 144 rushing yards on 18 carries for the Esks. Henry Burris provided most of the offense for the struggling REDBLACKS, as he passed for 252 yards (with an interception and no touchdowns passes), while also tying for the team lead in rushing yards (with a mere 21 yards) while also running for a score. As was the case last week, this game is more indicative of the widespread weaknesses for Ottawa than the strength of their opponent (that being said, Edmonton is certainly a good team this season). The Rouge et Noir need answers and they need them fast before they slip out of contention this season. It should be noted that the game's leading scorer was Eskimos kicker Grant Shaw, who scored 15 points with 5 field goals.
| | | | | | |
| --- | --- | --- | --- | --- | --- |
| | Total Yards | Passing Yards | Rushing Yards | Touchdowns | Turnovers |
| Edmonton - 23 | 393 | 242 | 151 | 1 | 3 |
| Ottawa - 12 | 298 | 252 | 46 | 1 | 3 |
BC Lions 27, Saskatchewan Roughriders 24
Two years ago, the Saskatchewan Roughriders were the cream of the crop in the CFL, cruising through the regular season en route to a Grey Cup victory. On the back of star QB Darian Durant and stud running back Kory Sheets, the Riders dominated. Today, Sheets' future is uncertain in football of any kind (he had a failed attempt at making it in the NFL last season and is currently out injured) and Durant is once again out injured, and Saskatchewan is scrambling to find answers as they are now winless in 2015. It's not as if the Riders didn't have a chance; BC only outscored Saskatchewan in the first quarter, but they were able to maintain that lead long enough to hold on for a win. As mentioned earlier, Travis Lulay had a big day in both phases of the offense to lead the Lions to victory. Shaquille Murray-Lawrence added to the fireworks for BC, as he picked up 80 yards in kick returns, including a 66-yard run back. Kevin Glenn put up big numbers in another loss, passing for 360 yards, 1 touchdown and 1 interception. Weston Dressler led all players in receiving yards with 125 on 6 receptions.
| | | | | | |
| --- | --- | --- | --- | --- | --- |
| | Total Yards | Passing Yards | Rushing Yards | Touchdowns | Turnovers |
| BC - 27 | 327 | 127 | 200 | 3 | 0 |
| Saskatchewan - 24 | 517 | 360 | 157 | 2 | 1 |
Winnipeg Blue Bombers 25, Calgary Stampeders 26
Calgary continues to find ways to win, even when they don't dominate the way that many fans and media members expected them to this season. The Blue Bombers exploded out of the gate, scoring 16 in the first quarter, but the Stampeders fought back and was able to edge out the Bombers in Calgary. The Bombers' day on offense was headlined by two great receiving performances from Darvin Adams and Clarence Denmark, who pulled in 121 yards and 101 yards, respectively. Statistically speaking, Drew Willy actually outplayed Bo Levi Mitchell, as he completed 81.5% of his passes for 289 yards, compared to 57.1% for 165 yards for Mitchell. Statistics don't always tell the whole story though, as Mitchell was able to lead his team to the hard-fought victory. Our Top Canadian this week, Jon Cornish, led all rushers in the game with 120 yards on the ground.
| | | | | | |
| --- | --- | --- | --- | --- | --- |
| | Total Yards | Passing Yards | Rushing Yards | Touchdowns | Turnovers |
| Winnipeg - 25 | 365 | 289 | 76 | 3 | 4 |
| Calgary - 26 | 312 | 165 | 147 | 3 | 1 |