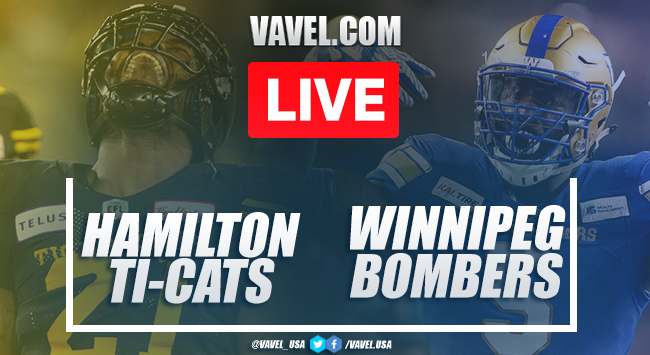 Final | Hamilton Tiger-Cats 12-33 Winnipeg Blue Bombers
4th Quarter 0:11
4th Quarter 1:05
4th Quarter 1:40
4th Quarter 3:00 | Winnipeg Field Goal
4th Quarter 4:46 | Winnipeg recovers a fumble
4th Quarter 6:33 | Winnipeg Touchdown!
Call Overturned!
4th Quarter 6:33 | Winnipeg Touchdown!
4th Quarter 8:00
4th Quarter 11:14
4th Quarter 13:21
End of 3rd Quarter | Winnipeg Field Goal
3rd Quarter 2:58
3rd Quarter 3:02 | Hamilton Touchdown
3rd Quarter 3:44
3rd Quarter 6:39
3rd Quarter 8:20
3rd Quarter 9:33
3rd Quarter 10:55 | Field Goal Winnipeg!
3rd Quarter 12:31
3rd Quarter 14:47
3rd Quarter 15:00 | Second Half Begins
Keith Urban just rocked this house!
Images LIVE from McMahon Stadium
Keith Urban's stage for the Halftime Show!
HalfTime | TigerCats 6-21 Blue Bombers
2nd Quarter 0:15 | Field Goal Winnipeg!
2nd Quarter 0:55
2nd Quarter 1:51
2nd Quarter 3:50
2nd Quarter 4:14
2nd Quarter 5:20
2nd Quarter 5:46 | Bombers Touchdown!
2nd Quarter 7:20
2nd Quarter 10:00 | Bombers Field Goal!
2nd Quarter 11:20
2nd Quarter 14:00 | Field Goal for Hamilton!
End of the 1st Quarter
1st Quater 2:14
1st Quater 6:00
1st Quater 7:00
1st Quater 7:30 | TiCats Fieldgoal!
1st Quarter 9:50
1st Quarter 11:25
1st Quarter 11:30 | Bombers TOUCHDOWN!
1st Quarter 11:50
1st Quarter 12:00
1st Quarter 12:30
1st Quarter 13:48
1st Quarter 14:50
Kick-Off | Hamilton Tiger-Cats 0-0 Winnipeg Blue Bombers
Oh Canada!
Coin toss!
Everything set for kick-off!
Bombers step out on the field!
Ti-Cats are ready!
The Grey Cup is here!
The pre-game show is underway with a performance by The Beaches
All set for the Opening Ceremony at the 107th Grey Cup!
Ticats with the last minute prep talk!
The Bombers fanbase is showing all their support
McMahon Stadium all dressed up for the ocassion!
Both teams are pumped for the match!
The Bombers getting some motivation from their fans!
The Ti-Cats are ready to go!
LIVE Coverage Begins!
The expected lineup for the Bombers!
The expected line up for the Tiger-Cats!
It's all about the Grey Cup tonight!
Winnipeg Bombers: Current form
Hamilton Tiger-Cats: Current Form
The Officiating Team for Tonight's Grey Cup!
The Tiger Cats are also hyped to try to reach another title!
The Blue Bombers are motivated for the game!
Half Time Show!
Who will break the negative streak?
How to watch Hamilton Tiger-Cats vs Winnipeg Blue Bombers Live TV and Stream
Kick-off time