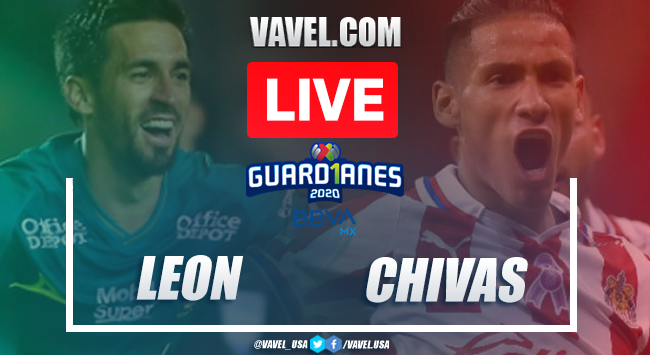 The return final will be in Leon!
It's over!
We are at 90
Campbell's shot
In search of the miracle
A couple of more moves
Two moves by Chivas
Post!
It was the second one!
The first half is over!
Less than five minutes
10 minutes to the end of the first half
Half an hour of play
Chivas goes for two even if Leon scores one more goal
The first one fell!
The rhythm León is looking for
Little by little León approaches
Dynamic start
Start the game!
The special one for Leon
RIP Chivas, say Leon fans
This is how Chivas warms up
Alexis Vega warms up separately
Chivas: lineup
Lineup: Leon
Gigliotti might not start
Chivas' locker
Chivas arrived
Amazing but irresponsible
Leon's home record is outstanding
Leon is in the house
What Chivas needs to make it to the final
What Leon needs
Chivas recovers Brizuela for tonight
Less than three hours to go
Chivas and Leon are more equaled in the defenssive part
Possession was retained by Club Leon in the first semifinal
Best offensive performance for Club Leon in first game vs Chivas
Stay here with us!
How to watch the game: Live TV and Stream
Chivas: Last Lineup
León: Last Lineup
Chivas team news
Leon: Team News
What Chivas needs
Leon scored in the first leg
Kickoff time
Welcome!