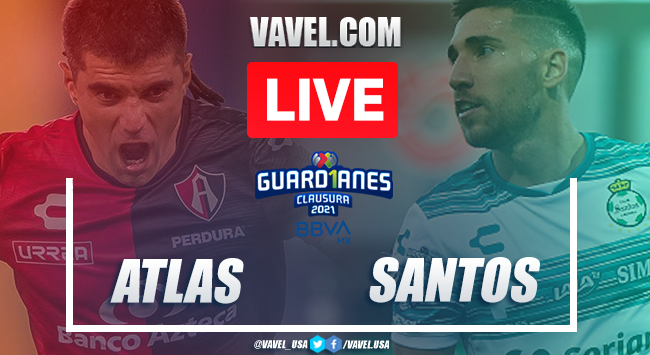 Thank you for tuning in
Summary of the match
Match ends
94' Atlas goal!
93' Third intervention by Acevedo
92' Acevedo again!
91' Acevedo is a factor!
90' Added time
86' Santos substitution
85' Time is running out
79' Atlas substitutes
77' Yellow card
74' Atlas tries and tries
71' Atlas substitutes
70' Game restarted
67' Game stoppage
66' Yellow card
65' Santos with long distance shots
62' Yellow card
60' Ibarra wastes
58' Santos changes
57' Foul in favor of Atlas
55' Atlas controls
49' Atlas does not stop attacking
48' Atlas forgave
45' Atlas substitutes
Second half played
First half ends
45' Added time
41' Acevedo is the star!
38' Atlás near the tie!
33' Free kick
31' Yellow card
29' Santos forgave the second goal!
25' Doria clears!
23' Yellow card
21' Acevedo!
19' Atlas on the attack
16' Atlas seeks to react
13' Game stopped
10' Santos goal!
7' Foul in favor of Santos
4' Foul
The match begins
Atlas Lineup
Santos Lineup
The arrival of the Guerreros
Player to watch: Atlas
Player to watch: Santos
Women's teams results
Draw between U-20 teams
Atlas U17 loses in CECAF
Stay tuned
How to watch Atlas vs Santos TV and Stream
Santos announced the release of Octavio Rivero
Santos, leaders and undefeated
Atlas without a goal
Recent memory
The leader visits the bottom of the table
Day 5 of the Guard1anes 2021
Kick-off time
Good afternoon to all VAVEL readers!