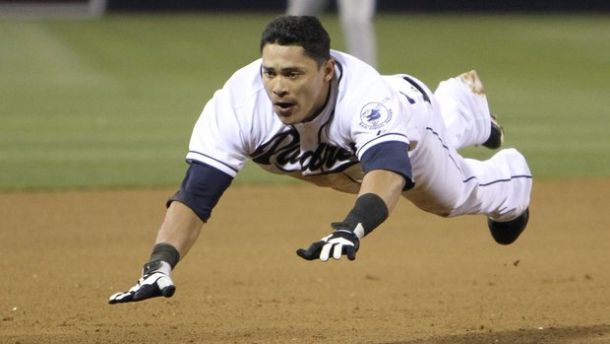 The Padres lost another regular contributor this afternoon as the club placed starting shortstop Everth Cabrera on the disabled list with a strained left hamstring. Cabrera has not played since Monday after sustaining the injury.
Cabrera was an All-Star last season, but his achievements were marred by his 50-game suspension in the Biogenesis scandal. This year, Cabrera has struggled mightily, as evidenced by his .256 on-base percentage on the year.
San Diego purchased the contract of infielder Brooks Conrad to take Cabrera's spot on the active roster. Conrad has had a monster year for El Paso, with 18 homers and a .274 average. Conrad grew up in the San Diego area and attended Monte Vista High School in nearby Spring Valley. The Padres signed Conrad in the off-season, but he did not even receive an invitation to Spring Training. Conrad, 34, has seen big-league action in parts of five season with Oakland, Atlanta, Milwaukee and Tampa Bay.
The Padres opened a 40-man roster spot by placing LHP Troy Patton the 60-day DL. Patton has been experiencing soreness in his shoulder. Since there is no structural damage to his arm, Dr. James Andrews has recommended rest for the veteran lefty.