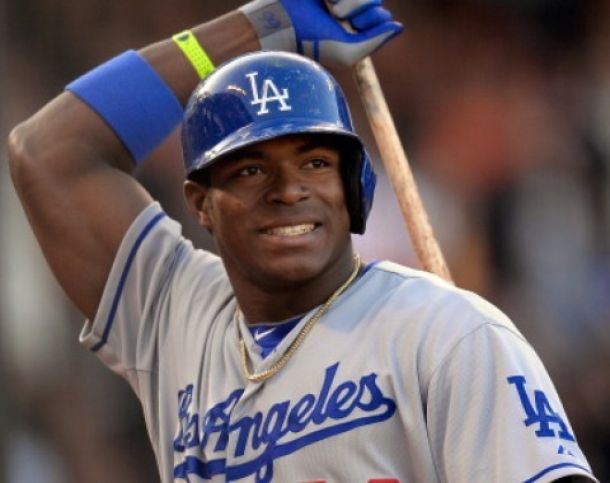 Dan Haren struck out eight batters through 5 1/3 innings, but gave up ten hits in the Los Angeles Dodgers 8-7 loss to the Colorado Rockies on Saturday afternoon. Those hits drove in eight earned runs and put Los Angeles in a bit of hole. Haren gave up two home runs and now holds a 4.06 ERA. Haren's overall record fell to 8-5 in loss. Jamey Wright, JP Howell, and Brandon League combined to surrender two hits in their relief appearances, giving the Dodgers the room to try and put together a comeback.
The Dodgers put two runs on the board in the first inning when Yasiel Puig led off with a grounder to shortstop Josh Rutledge, whose throwing error allowed Puig to move to second base. Hanley Ramirez hit his 23rd double to drive in Puig from second. Juan Uribe singled to drive in Ramirez for an early 2-0. The Rockies poured on eight runs throughout the next six innings to take a commanding 8-2 lead.
Things got interesting in the seventh when the Dodgers made a push. The five run inning began with an A.J. Ellis ground rule double. Miguel Rojas walked, and Clint Robinson singled to drive in one. Puig then doubled to drive in Rojas and move Robinson to third, who scored on a passed ball with Ramirez at the plate. Ramirez drove in Puig, and later scored on a groundball that resulted in a double play to bring the Dodgers within one, 8-7.
Dee Gordon pinched-hit in the eighth and singled, then stole second base for his 42nd steal of the season. Puig struck out and Ramirez grounded out to strand Gordon at second. The ninth was a three up three down inning, and the Rockies ended their losing streak against the Dodgers. Los Angeles finished the game 5-for-14 with runners in scoring position, leaving seven on base. Puig and Ramirez led the way, each going 2-for-5.
The Dodgers sit at 50-40 and will be sending out Josh Beckett for the series finale tomorrow afternoon. The boys in blue now sit a game ahead of the San Francisco Giants, whose game is in progress against the San Diego Padres.