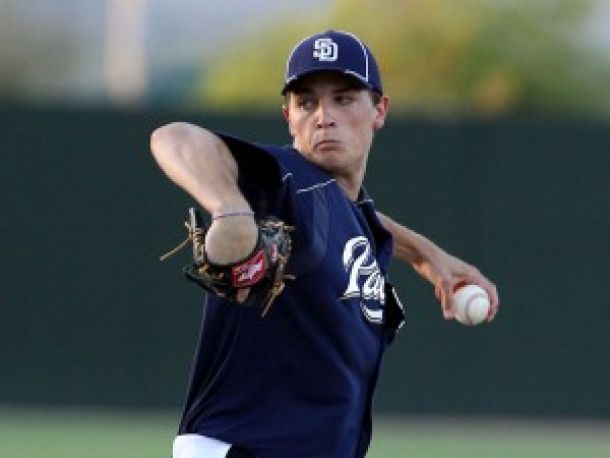 The Padres system had a busy week of transactions. Several players were placed on the disabled list, while others were promoted to new destinations on the Padres ladder. The Padres also released a few players. Here is a look back at the last week in transactions down on the farm:
Released: RHP Tony Wieber (from short-season Eugene), INF Bridger Hunt (from High-A Lake Elsinore) RHP Tim Sexton
Wieber, 23, was the Padres 33th round pick in 2012, out of Michigan State. Wieber pitched well for Eugene in 2012, as he finished with a 1.32 ERA in 2012. He missed all of 2013 with an elbow injury, and struggled with Fort Wayne and Eugene this year. He has a 6.75 ERA in 10 appearances this season. Hunt, 28, was originally drafted way back in 2006 by the Dodgers. Between Lake Elsinore and San Antonio, the infielder was hitting just .212. Sexton, 27, was also drafted by the Dodgers in 2007. He made 23 appearances for El Paso, and posted a 6.45 ERA on the season.
Assignments: RHP Zach Lemond (Padres 3rd round pick in 2014), RHP Walker Lockett (from Arizona Padres to Eugene), RHP Jimmy Brasoban (from Eugene to Fort Wayne), OF Nick Torres to Eugene (Padres 4th round pick in 2014), INF River Stevens (from Fort Wayne to Lake Elsinore), LHP Max Fried (assigned to AZL Padres), RHP Genison Reyes (assigned to Lake Elsinore from Fort Wayne), RHP Cody Hebner (assigned to Fort Wayne from Lake Elsinore).
Some of the Padres draft picks made their professional debut this week, while a few players were shuttled back in forth. Cody Hebner, a 4th round pick in 2012, has struggled in Lake Elsinore, after a good start. For the year, he has a 4.81 ERA. Max Fried is on the mend after experiencing some elbow soreness throughout the spring. Eventually he will make his way to Lake Elsinore.