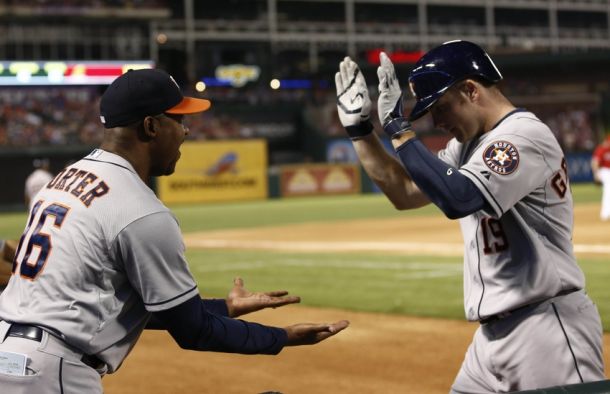 After taking the first two games of the series, the Houston Astros were back at it Wednesday night going for the series sweep. The last time they swept the Rangers, was back in 2003. Now is the time to end the drought.
On the mound for the Astros, was their ace, Dallas Keuchel. Despite the voting going on for the final vote for the All Star Game, Keuchel knew there was a game to be played, and he did what he had to do to get his 9th win on the season.
The Rangers offense couldn't quite get things going. All they could settle for, was simple base hits. With Keuchel on the mound for the Astros, there was a feeling that there were going to be a lot of ground balls hit. Some made it through, to the outfield, and some didn't. The hits that they did manage to get early on, did indeed help. Jake Smolinski had himself a night going 3-4. Daniel Robinson's 2 run double in the bottom of the 2nd inning, was probably the biggest hit of the night for them. The Rangers led after 2 innings, 4-2. After that, they couldn't score anymore. Keuchel settled down nicely, and ended up pitching 6 2/3 innings. Only 4 runs allowed on 8 hits.
Yu Darvish was the starting pitcher for the Rangers. Suprisingly, tonight wasn't his best performance. The Houston Astros were racking up hits all night. Robbie Grossman led the way, going 4-5. Coming into this game, Grossman was in an 0-28 slump. It was huge to get production from him tonight. Although he was a triple shy of the cycle, he had himself a night to remember driving in 2 runs, and breaking out of his slump. Although Jose Altuve was only 1-5, the rest of the Astros lineup got the offense going, eventually putting up 8 runs on the board.
With this win, the Houston Astros improve to 39-54 on the season, while the Rangers fall to 38-53. Dallas Keuchel improves to 9-5 on the season, while Darvish goes to 8-5. The Houston Astros will now have a day off before facing the Boston Red Sox on Friday night at Minute Maid Park in Houston, Texas.