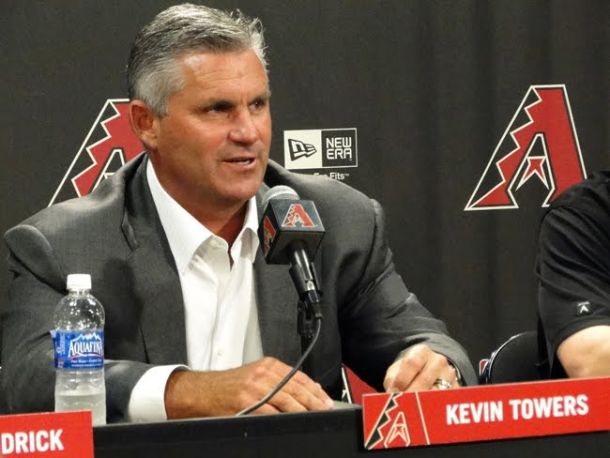 It was made official Friday morning that the Arizona Diamondbacks have relieved general manager Kevin Towers of his duties with ball club.
Chief Baseball Officer Tony La Russa announced that the organization will be interviewing candidates for a new general manager immediately. He also so said that Kevin Towers has been offered another position with the organization and that he is evaluating he opportunity. It has been noted that Towers is waiting to see who the new general manager is before making his decision.
Kevin Towers joined the Diamondbacks in September of 2010 and Arizona produced a 320-317 during his tenure, a record clearly not playoff worthy. Towers' lone success was winning the 2011 National League West Division Championship in his first season. The team is currently sitting 22 games under .500 and will endure their worst season since 2010 when they finished 65-97.
Kevin Towers is notoriously known for his questionable trades and overall player management. Towers traded Jarrod Parker and Ryan Cook to the A's for Trevor Cahill in 2011 that was quickly followed with the signing of outfielder Jason Kubel to what was an already set D-backs outfield. In 2012, Towers traded Chris Young to Oakland and received Heath Bell and Cliff Pennington. Pennington has been solid to this day but Heath Bell was absolutely dreadful in a Diamondbacks uniform.
Brandon McCarthy and Cody Ross were signed in 2012 and contributed very little to Arizona's success. Perhaps the worst move of Towers' tenure was when he traded star outfielder Justin Upton to the Braves for third basemen Martin Prado and pitcher Randall Delgado. Prado is no longer a Diamondback and Delgado has an ERA over five this season. It was only a matter of time before Kevin Towers was gone after an 8-22 start to the 2014 season, and D-backs fans couldn't be happier.