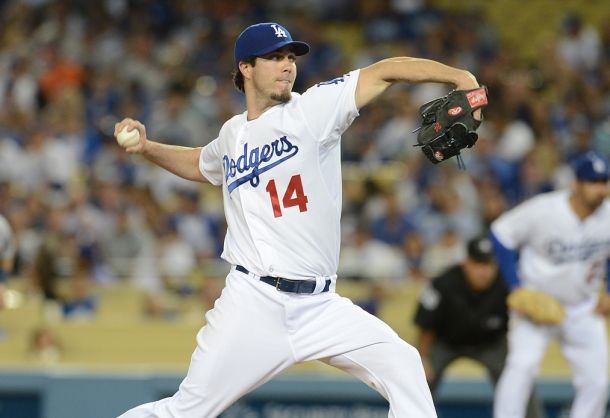 Dan Haren began the weekend series for the Dodgers on the mound against his former team, the Arizona Diamondbacks. Haren put together a nice performance, including stranding two and getting out of the fifth inning with the lead. With the Josh Beckett injury and uncertain future, Haren and the back end of the rotation need to become more consistent. Haren retired nine straight through four innings before giving up a double and an eventual run on a sacrifice fly. Haren left the game after notching six strikeouts through six innings, picking up his twelfth win.
Haren showed good control, giving up four hits and walking only one. Pedro Baez came into the game in relief, making a bare-handed play on a swinging bunt to end a perfect seventh inning. Baez retired all four batters he faced. Brian Wilson relieved J.P. Howell with two outs and a runner on first, stranding the runner and getting the game to closer Kenley Jansen. Jansen blew his last save attempt Wednesday against the Nationals. Tonight was a different story with Jansen, capturing his 40th save in a perfect ninth inning, joining Eric Gagne, Todd Worrell, and Jeff Shaw in the Dodgers 40 save club.
Haren helped his own cause in the second inning, singling after an A.J. Ellis walk to put two on with one out. Yasiel Puig struck out for out number two, but Hanley Ramirez came through with a single to right field to drive in Ellis and take the early lead. Matt Kemp hit his 18th home run of the year in the third, a big fly ball to right field that sailed over the wall for a solo shot and the 2-0 lead. Ramirez and Kemp both finished the game with two hits, combining to go 4-8 with two RBI's. Adrian Gonzalez, Scott Van Slyke, and Haren each added a hit for seven hits in the game, but the bulk of the offense and the scoring came from Ramirez and Kemp. The Dodgers would like to see Ramirez get going again at the plate after struggling through some rust after spending some time on the DL and battling some injuries throughout the season.
Hyun-Jin Ryu will make the start on Saturday against Arizona. Ryu is pitching before Zack Greinke in the rotation to separate the lefty from Clayton Kershaw. Kershaw is scheduled for Monday and Roberto Hernandez for Tuesday. It isn't anything health related. The word on Beckett is that he will talk to his wife before deciding his playing future but he needs hip surgery even if he doesn't play.