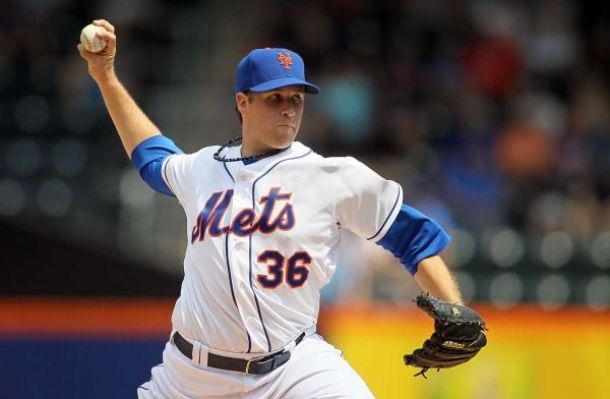 Many consider Mets General Manager Sandy Alderson's greatest strength to be his ability with trades. He is typically lauded for acquiring elite prospects such as Zach Wheeler, Travis d'Araund and Noah Syndergaard, but not all of his trades have worked out so well. One of these trades is his decision to trade starter Collin McHugh for Rockies outfielder Eric Young Jr.
While this trade did not grab many headlines initially, it is one that the Mets would surely like to take back. Young has almost been nonexistent this year with a .225 batting average and only one home run in 240 at bats. More significantly however, is the emergence of Collin McHugh. McHugh has been excellent this season with a strong 2. 89 ERA and 1.09 WHIP over 22 starts. He is also striking out batters at a very high rate with a 9.4 K/9, which ranks 7th in the American league.
Even though nobody could have expected McHugh to be as dominant as he's been this season, he showed several promising signs prior to the trade. Throughout his time in the Mets minors, he pitched with a lot of poise and exhibited good command and movement of all of his pitches. He also had a deadly curve ball that rated as a plus pitch.
Additionally, McHugh was also having a very strong season in AAA Las Vegas before being traded. McHugh's ERA stood at 2.87 over nine starts, which is extremely impressive considering the challenging conditions of pitching in Cashman Field. Cashman Field is a pitcher's nightmare, and is arguably the most hitter friendly park throughout the entire minor leagues. Whenever a pitcher posts an ERA below three in Las Vegas, it is always a very promising sign.
Despite his impressive minor league numbers, many fans unfairly judge McHugh off a brief stint in the majors with New York. While McHugh certainly struggled in the Mets rotation, it was not a good enough reason to dismiss him as a prospect. It's not unusual for young players to struggle early on in their careers, and five bad starts is not a large enough sample size to harshly judge a prospect by. Given his skills and minor league track record, he deserved another shot to redeem himself.
While McHugh showed some upside prior to the trade, it was clear that Eric Young did not possess a lot of potential. As an outfielder for Colorado, he couldn't hit for a high average, get on base, or hit for any power. His only asset was his speed. Young posted a meager .261/.329/.342 slash line in 776 AB's despite hitting in a favorable hitters park in Coors field. Even though Coors field is mostly thought of to help power numbers, it also benefits singles hitters like Young. Some pitchers do not get the same break on their pitches as the normally do at such a high altitude, and the large gaps in the outfield leave a lot of room for hits to fall in.
The benefit Young received from playing in Coors was signifcant. Below is his slash line at Coors and on the road prior to coming to New York.
Eric Young Jr at Coors: .298/.358/.382
Eric Young Jr Away from Coors: .211/.290/.286
While the Rockies also gave up on McHugh, their mistake does not justify the Mets poor decision. The Mets traded a prospect that had some upside for a backup outfielder who had proven he could not handle major league pitching. It was a bad move, and it is one that has come back to haunt the Mets as McHugh has developed into a quality starter in 2014.