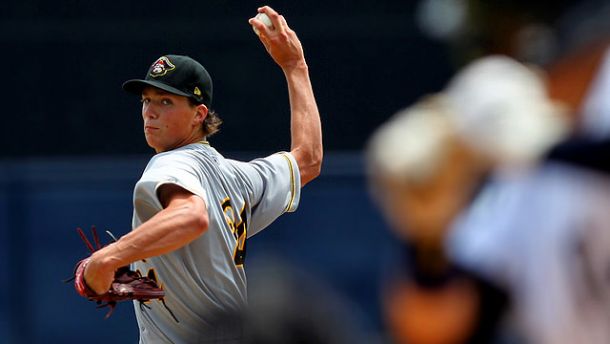 The Arizona Fall League is always the solution for the minor league baseball blues. Just when you start crying over having to wait over five months for spring training, comes the antidote. Six teams with many of the minor's best to offer duke it out from October 7th until November 15th when a champion is crowned at Scottsdale Stadium. Here are the top stars that you'll be seeing soon in the OTHER fall classic.
1. Twins OF, Byron Buxton- Arguably the top prospect in all of baseball, Buxton looks to bounce back from his latest injury after running into a wall during his Double-A debut and getting a concussion. We'll see how his wrist holds up this fall, and if it does look for him to give us a taste of the 5-tools that made him the number two overall pick in the draft two years ago.
2. Pirates RHP, Tyler Glasnow- The former fifth rounder has been nothing but lights out since his minor league debut in 2012. He has worked his way up the Pirates system and propect boards alike. At 6'7", this menacing prospect has a career 1.94 ERA in 270 innings spanning three levels. Add 365 K's to that and you got a future star in the making. It will probably be one more year until we see him in the bigs, since he is only 21 and has not yet pitched at Triple or even Double-A.
3. Dodgers SS, Corey Seager- Seager ended the season at Double-A last season after bullying Cal League pitchers to the tune of .352 avg. The Dodgers have a tough decision coming up this winter on what to do with Hanley Ramirez, but Seager gives Ned Colleti a clear answer. Hanley gets a short term deal.
4. Mariners RHP, Taijuan Walker- Even though he is barely a prospect, Walker is one of the best. The Mariners were smart to have him on the roster in their hunt for October even if it was out of the bullpen. He should be at least the #4 starter on the opening day roster. He won't be a prospect for much longer.
5. Cubs SS, Addison Russell- Russell quickly showed why the Cubs could forget about Jeff Samardzija and focus on what to do with Starlin Castro. In just 50 games with Double-A Tennessee (and coming off injury), he batted .294 with 12 HR's and 36 RBI's. Despite being second on this list, he is the top SS prospect in the minors.
6. Indians SS, Fransisco Lindor- The 20 year old got his first taste of Triple-A last season and looks poised to start there next season, but not for long. He is one of the better shortstops in the minors and has speed and contact to make him the Indians starting SS sooner than later.
7. D'Backs RHP, Archie Bradley- Now that Bradley's roller coaster season is over, he can hopefully get back to taking over Arizona. From possibly being the sixth starter for the D-Backs to Injury to ineffectiveness, Bradley will want to forget 2014, execpt maybe the fall.
8. Astros RHP, Mark Appel- Has anyones thumb ever given a person as many problems as Mark Appel's has? The #1 pick had a nighmarish time in the already hitter-friendly Cal League and was even removed from the team at one point to get with the program. Objectionally, he was still promoted to Double-A Corpus Christi and did see a big improvement. He saw his opponents average go down from .372 to .236. We'll see in the Fall League if that was just a product of Texas League's not so friendly hitting enviorments.
9. Royals RHP, Kyle Zimmer- Zimmer missed most of the year due to shoulder problems. He pitched in six games at the Rookie level and four games in the Triple-A playoffs, two very differnt enviorments which he proceeded to dominate. While the Fall Leahue will do him good, look for him to really get rolling, most likely at Omaha, next season.
10. Mariners 3B/1B, D.J. Peterson- If the Mariners wanted to make the playoffs, they would have brought Peterson up. There was no reason he should have been sitting at home while Seattle was eliminated. After hitting just under .300 and hitting 31 homers while knocking in 111 runs across two levels, Peterson should cement his place on the spring training roster this fall. Whether at 1st or 3rd, though, he needs work on D.
11. Pirates 3B, Josh Bell- Bell does not have the power or speed to stand out in a crowd, but that doesn't mean he cannot wow. Bell had 111 hits in just 84 games for High-A Bradenton. Now if only he can turn some of his singles into doubles and doubles into homers, look out.
12. Padres OF, Hunter Renfroe- After personally looking Renfroe with Lake Elsinore last season, I can tell you this guy is in the same mold as George Springer. While he lacks Springer's speed he makes up for by hitting it where that won't matter. He started to struggle, however, after his promotion to Double-A San Antonio.
13. Red Sox OF, Rusney Castillo- Castillo helped Pawtucket win the International league title and then played a couple weeks with the Red Sox. Thats about all we know about him. We know he was a big prize of the international signings and we should find out why in the fall league.
14. Royals 3B, Hunter Dozier- To be honest, I'm not too big on Dozier. He does have great size (6'4", 220 lbs.) and is an intrigiung 3B prospect, but has not put had very good stats in his first two MiLB seasons. Also, he's already 23, so he is almost a shoe-in to start at Double-A, which in just two years in, may be too much for him.
15. Giants RHP, Clayton Blackburn- So far in his minor league career, he has been a 16th round steal. Posting no higher than a 3.65 ERA (with San Jose) in any of his first four professional seasons, he and Kyle Crick make up a great 1-2 punch in an otherwise rebuilding San Fransisco minor league system. As long as he can eat more innings and keep missing bats, he is on his way to San Fran next season.
16. A's 1B, Matt Olsen- Olsen was part of the stacked Stockton Ports team that failed to live up to their outstanding second half in the Cal League playoffs. Olsen hit a Cal League leading 37 HR's in the leagues toughest ballpark. The 20 year old now has 190 RBI's his past two seasons and has power that the A's will really need next season.
17. Cubs RHP, C.J. Edwards- Even though Edwards only pitched in 10 games last seaon at Double-A, he made a big impression. C.J. struckout 46 batters in 48 innings of work while posting a 2.44 ERA. Since entering the minors in 2012, Edwards has not gotten his ERA over that 2.44 mark. He looks to be one of the bigger names to know for next season.
18. Angels 3B, Kaleb Cowart- After the Angels traded for closer Huston Street Cowart was pretty much all they had left in their minor league system, which is among the worst in baseball. Cowart though stands way out and could easily be the Angels starting third basemen by midseason if David Freese struggles.
19. A's SS, Daniel Robertson- Want to know why Billy Beane had no problem trading Addison Russell? Daniel Robertson. Yes, he played in the hitter friendly California League for most of the summer. Even still he put up a .310 avg. with solid defense in the Cal Leagues least hitter friendly ballpark.
20. Mets OF, Brandon Nimmo- Next year will be his year. Nimmo was promoted to Double-A halfway through last season and I see the 21 year old only progressing next year. His big year should start in the Fall League.
Others to look: 3B Brandon Drury, SS Trea Turner, OF Nick Williams, RHP Vince Velasquez, RHP Roberto Osuna, OF Aaron Judge, C Peter O' Brien, SS Tim Anderson, RHP Miguel Almonte, OF Dalton Pompey, SS Raul Mondesi, OF Andrew Aplin, 3B Seth Mejias-Brean, OF Bubba Starling.