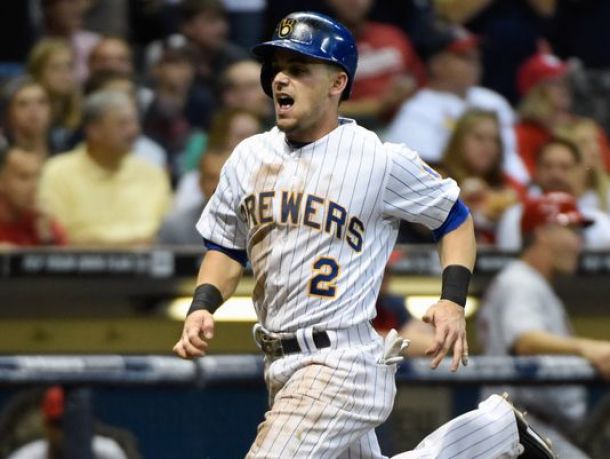 The Milwaukee Brewers enter the postseason in a shambles. At one point this season they were 51-32, and held a lead in the NL Central as late as September 1st. However, they finished the season limping over the finish line at just 82-80, missing out on the division by eight games and the wildcard by six. It was a supremely painful end to the season for the players and fans, and the Brew Crew have quite some rebuilding job on their hands to compete next season.
It will be a rebuilding job not in the sense that this team needs a lot of new pieces to make the playoffs next season. No, it is the confidence of this team that needs to be rebuilt. As the season wore along, it just never like the Brewers were going to win a game. It didn't matter who they were playing or who was pitching; it was as if they were beaten before the first pitch.
This is due in no small part to injuries. Disgraced former MVP Ryan Braun was nowhere near where he has been in the past, as his constant thumb injury hampered his swing all season. Meanwhile, early season MVP candidate Carlos Gomez saw his batting average plummet as the season went along and he attempted to play through injury. For the Brewers to make the playoffs next term, they will need those two firing on all cylinders.
It was a bit of a surprise to see manager Ron Roenicke keep his job after the late season collapse. It was a season eerily reminiscent of Milwaukee's 2007 season, and although then-manager Ned Yost kept his job he was fired before the end of the following season. Roenicke will start next season firmly on the hot seat, and if the Brewers aren't at least in a wild card place at the All-Star Break next season it would be surprising to see him still in the dugout.
Although Roenicke has survived the late season collapse, hitting coach Johnny Narron and first base coach Garth Iorg were not so lucky. The two were dismissed, and it will be interesting to see how that affects the clubhouse dynamic. Narron's brother, Jerry, is still with the Brewers and will still be the bench coach come 2015. Whether the fact that his brother has been dismissed will have any effect on Jerry Narron and the overall clubhouse dynamic is yet to be known.
The Brew Crew are going to experience some player turnover as well. Rickie Weeks' 10 year tenure in Milwaukee has finally come to an end after the Brewers declined his $11.5 million option. Weeks was one of Milwaukee's highest ever rated prospects, and was part of the golden generation of their farm system that produced him, Braun and Prince Fielder. However, he has not been the same player since his injury shortened 2011 season.
It's a shame to see Weeks leave. He appeared to be blossoming into quite some player before the high ankle sprain he never quite recovered from. In 2010, he hit for an average of .269 with 29 HR and 83 RBI. It was by far his best season in the majors, but he appeared to be improving in 2011. His final statistical line shows an average of .269 again, 20 HR and 49 RBI in only 118 games, 42 fewer than the previous season. The ankle injury came that season, and cut short his first All-Star campaign. He has not been the same player since, and the Brewers will finally be moving on.
For the first time since Weeks was coming through, the Brewers appear to have a future star at second base. Young Scooter Gennett has played only two seasons in the big leagues, and platooned some with Weeks this season. However, he has all of the tools needed to become a full-fledged star in this league. The platoon largely protected him from having to hit against left-handed pitching this season, but in 474 plate appearances hit for an average of .289 with 9 HR, 54 RBI and an on base percentage of .320. His fielding percentage was .982, and his WAR of 2.0 shows a potential star in the making. Gennett will get his chance to shine as the everyday second baseman next year, and don't be surprised to see him take it.
Weeks is not the only player who will not be back next season. Pitcher Marco Estrada was traded to the Toronto Blue Jays for first baseman Adam Lind, who will largely fill the void left at first base for the first time since Prince Fielder moved to Detroit. Estrada struggled mightily last season, and Lind will take over from the first base platoon of Lyle Overbay and Mark Reynolds. While they were certainly a competent platoon, Overbay is not the player he once was and Reynolds is a defensive liability. Both are costless agents, and it would be a surprise if either is brought back. Now at 37, Overbay will likely retire. Meanwhile, Reynolds is unlikely to be retained after a season in which he hit 22 HR but managed only 45 RBI and a batting average of .196 to go along with an on base percentage of .287.
Continuing our look around the infield, the Brewers announced last week that they had exercised their part of Aramis Ramirez's $14 million mutual option. The tem the confirmed on Monday that Ramirez has exercised his part, and will still be a Brewer come 2015. He is coming off another good season, and there aren't too many sure-handed third baseman who are also doubles machines coming off a .285 batting average. Ramirez struggle some with injury last season, but if he can stay healthy he will continue to be a vital cog for the Brewers.
Meanwhile at shortstop, Jean Segura will have to improve next season. He can largely be given a pass after the tragic death of his infant son this season, but the Brewers may have to start looking for a different long-term option at shortstop. After the Brewers traded for him in July of 2012, he was really impressive. Segura batted for an average of .264 in 2 ½ months that season, and kicked on for a really impressive start to the 2013 season. In July of 2013, his average peaked just short of the .340 mark in July, but the rookie fell into a slump that dropped his average to .294 for the season. Then, he struggled mightily last term, finishing with an average of only .246 and an on base percentage of .289 with a WAR of only 3.6, 2.9 points lower than it was in 2013.
Turning our attention to the outfield, we see a fairly settled group. Khris Davis, Carlos Gomez and Ryan Braun should all be starting on opening day but they will need to inmprove on their performances from this season. When Davis was called up for a suspended Braun at the end of the 2013 season, he had 11 HR, 27 RBI and a batting average of .279 over 153 appearance and many were anointing him the next stud outfielder for Milwaukee. The Brewers illustrated their self-belief in him by moving Braun to right field so Davis could start in left.
However, last year Davis really struggled. His weak arm was exposed time and again, and a single to left field with a runner on second was like gifting the opposition a run. He managed to hit 22 HR and 69 RBI, but only had an average of .244 and an on base percentage of .299. It was only his first full season in the big leagues, but he is another player who will need to perform better next season for the Brewers to make the playoffs.
The Brewers really missed Braun's elite bat and arm in right field as he struggled with a nerve injury in his thumb. He has already undergone an unusual surgery this offseason that froze the nerve, in the hope that the pain will not bother him. It almost appeared that the injury was forcing Braun to start his swing a split second earlier, and as such he was chasing pitches out of the zone that he normally lays off. If Braun can get back to the player he was in 2013, it will be almost like a new signing for Milwaukee.
Carlos Gomez too battled injury throughout the 2014 season, and after the All-Star Break was not quite the same player he was beforehand. Gomez may need to dial back his all-action playing style next season so as to avoid injury and stay in to help his team. His stat line is nearly identical to what it was in 2013, with a batting average of .284, 23 HR and 73 RBI. However, his average was above .310 as late as August. If those three can all get back to the way they are capable of playing, it will be yet another thing that could key a Brewers run to the postseason.
The Brewers solidified their rotation for 2015 by picking up Yovani Gallardo's $13 million club option. Gallardo struggled this season, and finished with a record below .500 for the first time in his career. He will likely find himself in the role of number three or four in the rotation, behind newly-minted ace Wily Peralta, Matt Garza and Kyle Lohse. With that rotation, Milwaukee can compete with any team in the majors. Meanwhile, Mike Fiers was supremely impressive at the end of the year and could provide a very solid pitcher in the number five hole. If Fiers struggles, the Crew should be able to turn to promising youngster Jimmy Nelson.
In the bullpen, the Crew will retain Tyler Thornburg, Will Smith, Jonathan Broxton and Jeremy Jeffress. Meanwhile, Francisco Rodriguez, Tom Gorzelanny and Zach Duke are all costless agents. Duke was sublime last season, and the Brewers should do everything in their power to re-sign him.
The Brewers don't really have anyone stellar coming through their farm system, and without a prospect in MLB.com's Top 100 list. Their top prospects are newly drafted, and it will take them a little while to develop. Although they struggled a lot last season, the Brewers may be feeling envious of the Cubs and their farm system fully stocked with blue-chip prospects. They may find themselves needing to deal away a key piece if they have to force through a trade because of their barren options in the minors.
Given the way they played at the start of the season, the Brewers are capable of making the playoffs next season. However, they will need everything to go right. Clearly not quite as talented a team as the Cardinals and Pirates, and without as talented of a farm system as the Cubs, the Brewers may be forced into a win-now mentality that could see them search for a blockbuster trade this offseason or early next year. And, if they aren't doing well come July, don't be surprised to see them look to trade away pieces such as Smith, Gallardo, Lohse and Broxton to restock that barren farm system.