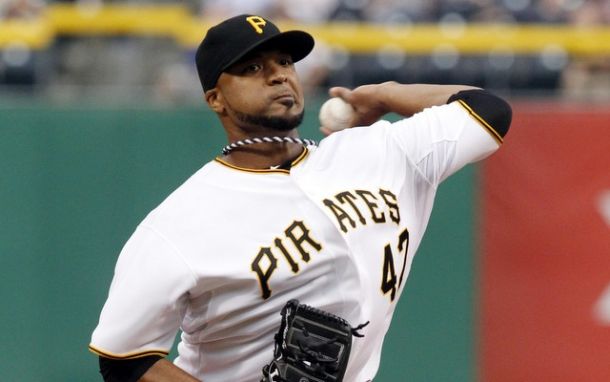 With Pittsburgh Pirates' LHP Francisco Liriano, New York Yankees' closer David Robertson and Detroit Tigers Victor Martinez all rejecting their $15.3 million qualifying offers. Now, all 12 players who received a qualifying offer has responded, and all have rejected.
Toronto Blue Jays' OF Melky Cabrera, Atlanta Braves' RHP Ervin Santana, Los Angeles Dodgers' SS Hanley Ramirez, San Francisco Giants' 3B Pablo Sandoval, Baltimore Orioles' OF Nelson Cruz, Pittsburgh Pirates C Russell Martin, Colorado Rockies OF Michael Cuddyer, Kansas City Royals RHP James Shields, Detroit Tigers' RHP Max Scherzer, Liriano, Robertson, and Martinez have all become costless agents after rejecting their qualifying offers.
After the qualifying offers were announced last week, there was speculation the Liriano and Robertson could become the first players to accept their qualifying offers. This off-season is the third under the new collective barganing agreement, and not one player has accepted a qualifying offer under the new agreement.
Liriano is 31 years old, has been inconsistent, and has had many injuries. He owns a career 4.02 ERA with 9.2 K/9 and 3.9 BB/9. Last year he pitched 162 1/3 innings, the second-most of his nine-year career, along with 175 strikeouts, the most of his career aside from 2006 when he was named an All-Star and came in third place in Rookie of the Year voting with the Minnesota Twins. He also put up a 3.38 ERA last season, the third-best of his career.
In costless agency, it is very unlikely that Liriano will get close to $15 million, the value of his qualifying offer. He made $6 million last season, which is the most he has made in one year. He will likely receive interest from his original team, the Twins, as well as the Diamondbacks, who are in need of pitching.
Source: Francisco Liriano's agents are scheduled to meet with 6 teams at GM meetings in AZ. Have multiple meetings tonight.

— Robert Murray (@RobertMurrayMLB) November 10, 2014
David Robertson also recently turned down his qualfiying offer at the last moment. He was solid from the closer's role last season for the Yankees, converting 39 of his 44 save opportunities. Last year was his first season as a closer, replacing retired Mariano Rivera.
If Robertson does not re-sign with the Yankees, Dellin Betances appears to be the likely candidate for the closer position in New York. He posted an outstanding 1.40 ERA from the bullpen last season, much better than Robertson's 3.08. Betances posted a 135/24 K/BB ratio in 90 innings, and is an American League Rookie of the Year candidate.
Stay tuned to keep up on the latest costless agency rumors and to see where these twelve players land this offseason.