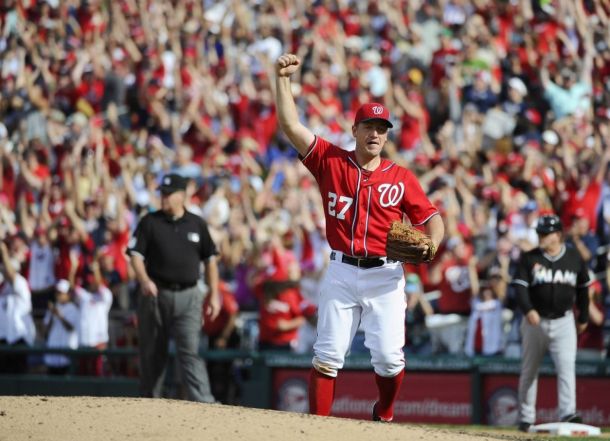 The Chicago Cubs are attempting to make another big splash this offseason. A week after hiring Joe Maddon, the Cubs are in talks with the Washington Nationals about acquiring right hander Jordan Zimmermann, reports Gordon Wittenmyer of the Chicago Tribune.
Zimmermann is a great fit for Chicago if they were to strike a deal. He would fit right in as the much-needed, front-line starting pitcher the Cubs. Chicago is reportedly targeting top costless agents Max Scherzer, Jon Lester and James Shields, though Zimmermann would be a cheaper alternative. The talented Washington righty is under contract for one more year, so if Cubs were to acquire Zimmermann, they would want to finalize a new contract with him to ensure he is with the club long-term.
The Nationals would likely be interested in acquiring one of the Cubs' talented young middle infielders in exchange for Zimmermann. Washington would love to have a deal involving Starlin Castro, Javier Baez or Addison Russell. The Nats have a hole at second base, and shortstop Ian Desmond will be a costless agent after 2015.
Zimmermann, 28, becomes expandable for the Nationals because of his contract desires and their starting pitching depth. Zimmermann was 14-5, with a 2.66 ERA and 182 strikeouts in 32 starts in his 2014 campaign. He also threw a no hitter in the final game of the regular season.