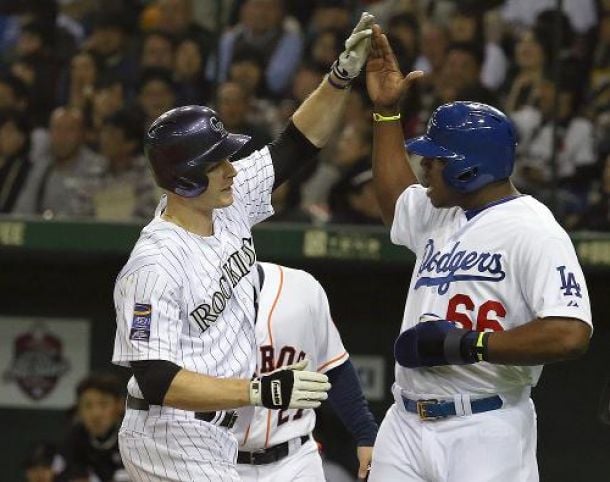 After being no hit on Saturday, the Major League Baseball all stars only needed two batters to get a hit on Sunday. Justin Morneau and Yasiel Puig teamed up to hit back to back doubles to give Major League Baseball the early lead.
Japan responded in the second when Nobouhiro Matsuda and Yoshitome Tsutsugoh also hit back to back doubles, making it a tie game. In the third, Justin Morneau hit a three run home run to give the all stars a 4-1 lead. Puig also robbed Tsutsugoh of a hit in the fourth to keep the MLB lead.
Yuki Yanigata gave Japan a spark in the sixth with a one out double, but they were not able to produce any runs. The Major League all stars extended their lead in the sixth, when Evan Longoria hit a solo home run to lead off the inning.
Japan had a minor rally going in the seventh, when they got runners on first and second with two outs, but once again, no runs came out of it. Again, Japan had an opportunity to score in the eight, when they got two on with two outs, and again, no runs resulted from it.
The MLB all stars extended their lead in the eighth, when Eduardo Nunez hit an RBI groundout to score Carlos Santana.
That was all they needed as Chris Capuano led the pitching staff to a dominating performance.
W- Capuano
L- Fujinami
Player Of The Game: Justin Morneau (MLB All Stars)
Next Game: Tuesday 5:00 am ET MLB - Japan