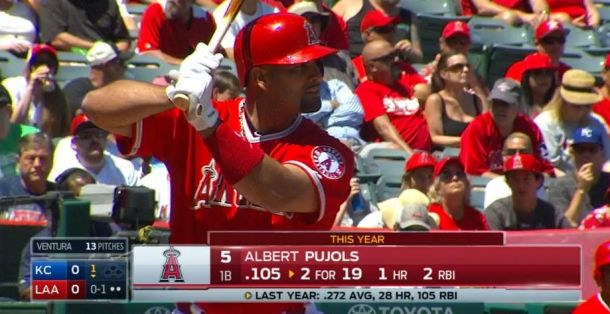 Although his stats for the first week do not look all that impressive, Los Angeles Angels first baseman Albert Pujols launched a milestone home run in his first at bat against the Kansas City Royals Sunday. The home run is #522 for the slugging first baseman, meaning that he has moved into sole possession of 18th place on the all-time home run list. Unfortunately, that home run could not help the Angels win as they lost 9-2.
Pujols's blast (2) came off a 98-mph fastball from Kansas City's Yordano Ventura. The ball just made it over the left-field wall and momentarily gave the Angels a 1-0 lead.
The video clip does not mention the significance of the feat, but that home run moved Pujols past legendary hitters Willie McCovey, Ted Williams, and Frank Thomas, who each had 521. Next on the list are Jimmie Foxx (534), Mickey Mantle (536), and Mike Schmidt (548) -- all within reach this season. Pujols needs 27 more to pass Schmidt and move into sole possession of 15th place. He hit 28 last year, and since it is only the first week, he should have every opportunity -- barring long-term injury -- to hit #549.
Still, though, Kansas City put that moment aside and took care of their own business. They scored four times in the second inning to take the lead they would never relinquish. Salvador Perez (single), Omar Infante (error), and Alcides Escobar (two-run double) each drove in runs.
The Royals then scored two runs, one run, and two runs in each of the fifth, sixth, and seventh innings, capped by Perez's seventh-inning solo shot (3). Perez drove in two on the day as did Infante and Alex Rios. Escobar drove in three.
Pujols drove in the Angels' second run with a double in the bottom of the sixth to score Mike Trout, but it was nowhere nearly enough.
Ventura (W: 2-0, 2.31 ERA) pitched 5 2/3 innings, allowing two earned runs on four hits. He walked two and struck out seven.
C.J. Wilson (L: 1-1, 3.95) took the loss. He pitched 5 2/3 innings and allowed seven runs (six earned) on nine hits. He walked one and struck out four.
On Monday, the Royals visit the Minnesota Twins to begin a series while Los Angeles heads to Arlington to take on the Texas Rangers. The Royals/Twins game will start at 4:05 p.m. EDT, and the Angels/Rangers game will begin at 8:05.