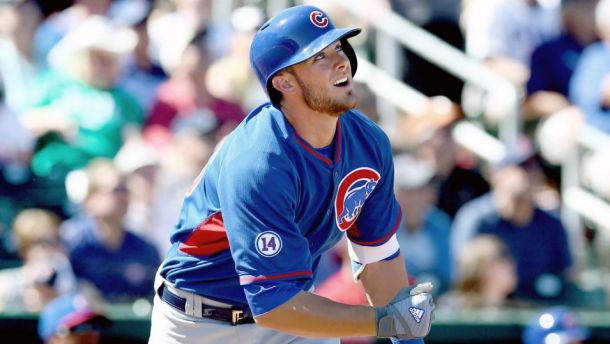 The Kris Bryant major league debut vigil is likely over. Jesse Rodgers of ESPN Chicago reports that the slugger will be added to the Chicago Cubs 40-man roster and called up to the big league team on Friday. He will replace opening day starting 3B Mike Olt, who has a hairline fracture in his wrist as a result of a hit by pitch last Saturday by hard-throwing Colorado Rockies reliever Adam Ottavino.
Kris Bryant set the Cactus League on fire this March, with a major league leading 9 HR (in just 40 AB) and looks more than ready to be in the big leagues. He dominated the minor leagues in 2014 by hitting 43 HR in AA and AAA. That was the highest total in professional baseball (the MLB leaders was Nelson Cruz with 40 HR).
The fact that he did not make the team out of camp was swirling with controversy. Per the active Collective Bargaining Agreement between MLB and its Players Association, if Bryant was not on the Cubs roster within 12 days, the Cubs would retain coveted "player control" for an additional year. The Players Association protested that a demotion should not occur because of his "earning" a spot. Noteworthy that considering that without major league experience, he is not a member of the Association. His agent also openly protested his demotion.
But the Cubs long term prospects prevailed. They publicly commented that they wanted Bryant to start in the minors as a policy of seldom starting the season with anyone who had not played in the majors before. So down to AAA Iowa he went. He expressed disappointment himself. The Cubs have yet to confirm that he will be moved to the major league team.
If he is called up, it would make the most sense to play him right away. He personally will not benefit from being a once every other day pinch hitter. He needs to hit and hit against the best. Like he did in Spring Training. When he hit the most home runs across the majors.