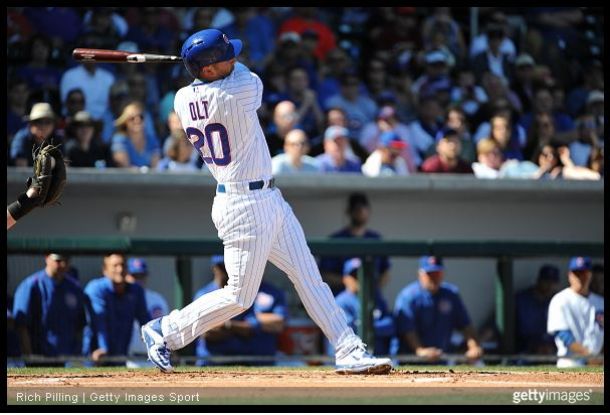 Just before activating their top prospect, Kris Bryant, the Chicago Cubs placed third baseman Mike Olt on the 15-day disabled list. MLB.com's Carrie Muskat reports that Olt has a fractured right wrist, the same one that took a ninth-inning fastball on April 11. Olt has had only two at bats since then, so this is the best time to make the move.
In addition, the Cubs also placed reliever Neil Ramirez on the disabled list with right shoulder inflammation.
The moves occur on the same day that Bryant surpassed his 12-day Minor League stint the Cubs wanted him to have in order to secure him for another season before he hits free agency in 2021. However, Muskat notes that Friday's roster moves are more out of the necessity of a third baseman than anything else. Tommy La Stella is battling injuries, leading to outfielder Chris Coghlan's playing of third base earlier this week.
Olt has stuggled so far this season and as a Cubs since last year. He is 2 for 15 with 1 HR in six games this year, and he hit only .160 last year although he did show some very good power with 12 home runs in 225 at bats. The big problem was that he struck out a whopping 100 times.
Ramirez, meanwhile, last pitched on April 15, facing and walking only one hitter. He has made five appearances and allowed one earned run in a total of three innings pitched. Last season, the now 26-year-old sophomore reliever showed a lot of promise with a 1.50 ERA in 50 appearances. He was also 3 for 4 in save opportunities.