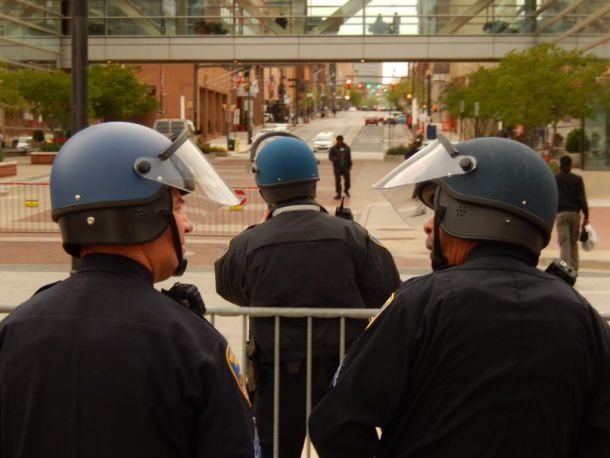 The Baltimore Orioles have postponed their game tonight against the Chicago White Sox due to the ongoing Freddie Gray riots in Baltimore.
Originally, the Orioles had their gates closed before having them open to fans with Baltimore police offers in riot gear standing at each of the gates. They decided to postpone the game around 6:30 p.m. EDT Monday night.
The scene outside Gate H of Camden Yards. Fans are being allowed in as officers in riot gear stand guard. #orioles pic.twitter.com/eXtBO8aMkh

— Eduardo A. Encina (@EddieInTheYard) April 27, 2015
The Orioles (9-10) and White Sox (8-9) are curerntly scheduled to play at 7:05 tomorrow night barring any major safety concerns from any potential ongoing riots. Steve Melewski of MASN is reporting that MLB commisionner Rob Manfred has said that they may look to play these games elsewhere due to the riots.
Rob Manfred: "It's possible these games could be played elsewhere."

— Steve Melewski (@masnSteve) April 27, 2015
The Freddie Gray riots stem from the potentially unwrongful death of 25-year old Freddie Gray, who was taken into police custody on April 12. A week after being taken into custody, Gray died due to complications of injuries that he suffered during his arrest. His death is being investigated by several law inforcement agencies, including the U.S. Department of Justice.