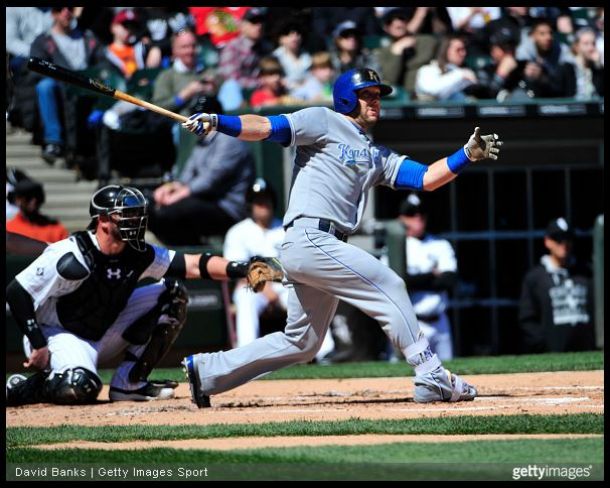 Alex Gordon's RBI double in the sixth ended up the game-winner as the Kansas City Royals defeated the Cleveland Indians 6-2 Monday night in Cleveland. With the game tied at 2-2, Gordon batted in the top of the sixth and drove one down left-field line to score Michael Brantley with the game-winning run (video).
Gordon added a second RBI one inning later with a single that drove home Lorenzo Cain and capped a three-run seventh-inning rally to bring the game to its eventual final score. Earlier in the inning, Mike Moustakas and Kendrys Morales each drove home runs with RBI singles.
The Royals took a 2-0 lead with single runs in the second (Omar Infante RBI single) and third (Eric Hosmer RBI single). That lead, though, faded when Cleveland scored two in the bottom of the fifth via Mike Aviles's two-run home run (2) with Jason Kipnis aboard. Cleveland, though, would score no more.
Jason Vargas (W: 2-1, 5.95 ERA) lasted just long enough to pick up the win thanks to Gordon's double. He pitched five innings, allowing two earned runs on three hits, including Aviles's home run. He walked five but got out of the innings without further damage. He also struck out one.
Ryan Madson, Franklin Morales, Kelvin Herrera, and Wade Davis each pitched a scoreless inning in relief. There was no save opportunity. The Royals' bullpen leads the Majors with a 0.73 ERA, allowing five earned runs in 62 innings so far on the season.
Corey Kluber (L: 0-3, 4.24) pitched 6 1/3 innings, allowing all six runs (four earned) on 10 hits. He walked two and struck out five. Kluber has not looked like the Cy Young winner from 2014, but the season is still very young, and he proved last year that he knows how to pitch.
On Tuesday, Jeremy Guthrie (1-1, 5.50) will pitch for Kansas City while Trevor Bauer (2-0, 0.95) toes the rubber for Cleveland. The first pitch is scheduled for 6:10 p.m. EDT.