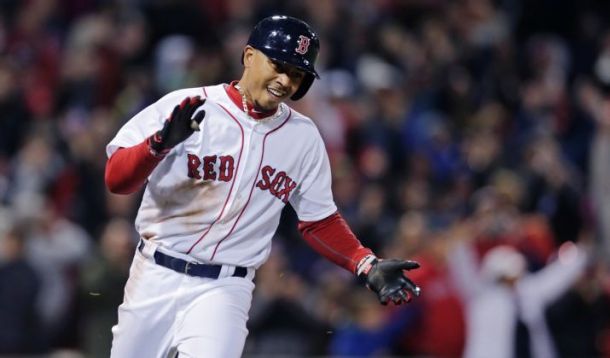 Trailing 5-4 in the bottom of the eighth inning, the Red Sox realized that they were staring a three-game losing streak dead in the eyes.
Luckily for the Boston faithful, the resilient group was able to piece together a comeback.
An RBI sacrifice fly in the eighth by Hanley Ramirez coupled with a walk-off RBI single by Mookie Betts signified a resounding victory for the Red Sox, as they avoided plunging two games back behind the first-place Yankees with a 6-5 victory over Toronto.
After Alexi Ogando retired the side in the top of the eighth, the Red Sox bats went to work quickly against Blue Jays reliever Alberto Osuna. Betts, who went 3-for-4 out of the leadoff spot, immediately singled to left, and Dustin Pedroia subsequently mustered a base hit of his own. The tandem then advanced on a wild pitch, and, following an intentional walk of David Ortiz, Ramirez hit a fly ball to left to plate Betts.
Allen Craig struck out looking and Daniel Nava lined out to third to strand Pedroia in scoring position, however the deciding run would come in the following inning. After Toronto pitcher Miguel Castro stuck out Brock Holt to begin the final stanza, Xander Bogaerts singled to left and Ryan Hanigan singled to right. The pair then advanced on yet another Toronto wild pitch, and scored on the ensuing pitch as Betts laced one through the gap in left-center to clinch the win.