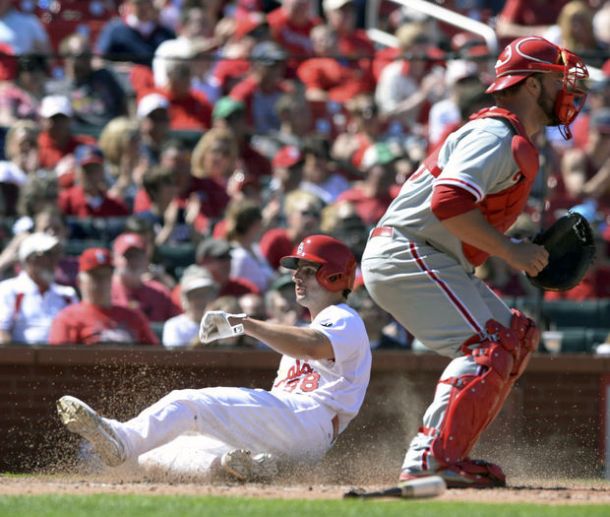 The St. Louis Cardinals (15-6) scored early and often as they routed the Philadelphia Phillies (8-15) 9-3 Thursday afternoon. The three Cardinals Matts combined for seven hits and six RBI.
The Cardinals' offense wasted no time showing why they once again lead the National League Central division. In the bottom of the first, Matt Carpenter and Matt Holliday both hit run-scoring doubles. Carpenter drove in Jon Jay, and Holliday plated Carpenter. Holliday later scored on a double-play groundout from Jason Heyward.
A third Cardinals Matt got in the action. With the score tied at 3-3 in the third, Matt Adams took David Buchanan over the right-field wall and over the Cardinals' bullpen with Carpenter aboard for a two-run shot (3) that turned into the eventual game winner.
St. Louis tacked on two more in each of the fifth (Holliday RBI double, Adams RBI single) and eighth (Jay RBI single, Jhonny Peralta bases-loaded walk) innings to put the game out of reach.
Philadelphia came back from the early 3-0 deficit beginning with an RBI single from Odubel Herrera in the second. Darin Ruf led off the third with a solo shot (2), and the Phillies tied the game later in the inning on Cody Asche's sacrifice fly. However, they could not make a second comeback.
Carlos Villanueva (W: 2-1, 0.96 ERA) came out of the bullpen in the third to pick up the win. He pitched 3 2/3 innings of hitless, scoreless baseball while striking out two in the process. He bailed out Cardinals starter Tim Cooney, who surrendered all three Phillies runs and could not complete the third inning.
Buchanan (0-5, 8.76) had another rough outing. He allowed seven earned runs on eight hits in 4 1/3 innings. He walked three, struck out one, and surrendered Adams's home run.
On Friday, the Phillies continue their road trip with a weekend series at the Miami Marlins while St. Louis hosts the Pittsburgh Pirates.