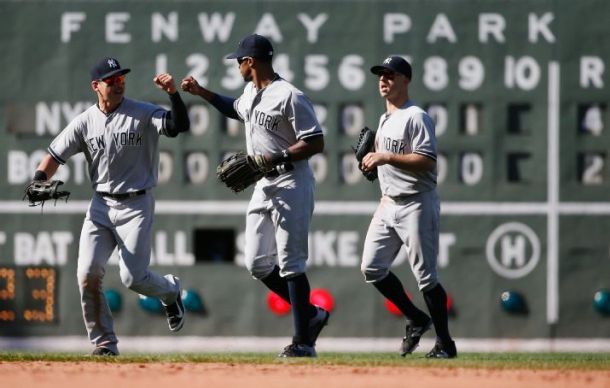 Brett Gardner has long been a thorn in the Boston Red Sox' side, and this afternoon's ballgame proved to be of little exception. 
The left fielder rattled Boston starting pitcher Wade Miley throughout the day, going 2 for 4 for three RBI while pioneering the New York Yankees to a series-clinching 4-2 victory in front of a hostile Fenway Park crowd. 
Despite turning in a fine outing of seven hits and three earned runs in seven innings, Miley dropped to 1-3 on the season with the loss. The defeat widened the gap between the 12-12 Red Sox and the 15-9 Yankees to three games as we begin the month of May. 
Nathan Eovaldi improved to 2-0 on the season for New York, pitching 6 2/3 innings of seven-hit, two-run ball. He struck out two while issuing just a single walk in the outing. 
Eovaldi was able to silence the Boston bats through the first three innings, limiting the Red Sox to just a single base hit; however, second baseman Dustin Pedroia began the fourth by depositing a hanging breaking ball into the Green Monster seats for his fifth homer of the season, knotting up the bout at one. 
New York broke the tie almost instantly, however, as third baseman Chase Headley lead off the top of the fifth with a double followed by a Gregorio Petit single. The two advanced a base after a picturesque sacrifice bunt by Gregorius, and, after center fielder Jacoby Ellsbury grounded out to first, they both scored on a clutch two-out opposite-field knock by Gardner, a hit which provided the Yankees with a 3-1 advantage. 
Boston lessened the gap in the bottom of the seventh, as, following a two-out walk issued to catcher Blake Swihart (making his Major League debut and collecting his first hit in the fifth, which ended Eovaldi's afternoon), center fielder Mookie Betts promptly placed a Chris Martin pitch off of the Monster, plating the Red Sox second run of the game. 
Unfortunately for Boston, an ensuing groundout by Pedroia would mark the last opportunity they would have to bat with a runner in scoring position as 1 1/3 innings of lockdown pitching from reliever Dellin Betances closed out the game for the Yankees. 
New York received some insurance in the top of the ninth, however, as right fielder Chris Young lifted an Alexi Ogando hanger into the hands of a fan residing in the Monster seats, providing Betances with some security as he captured the save in the bottom of the inning. 
The two squads are set to square off yet again tomorrow night at 8:05 PM ET, as New York's Adam Warren (1-1, 4.35 ERA) faces Boston's Joe Kelly (1-0, 4.94 ERA).