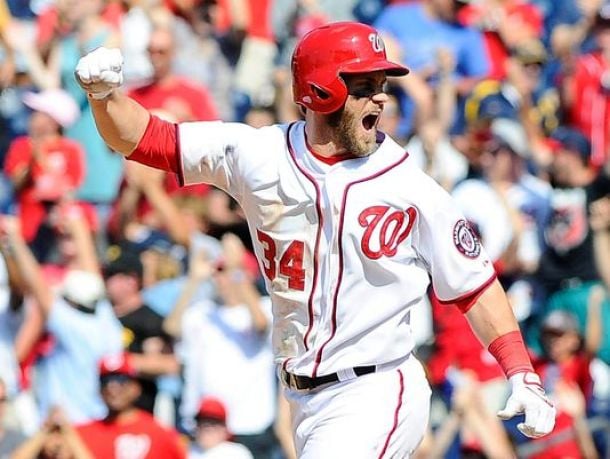 Bryce Harper has taken the Major League by storm this year. Harper has 18 HRs, 43 RBI's, and is hitting .331. Just for comparison sake to the rest of the National League, Harper is leading the Home Runs, Runs Batted In, On-Base Percentage, and walks. Harper is also in the top five in batting average. These are staggering numbers for someone who is still the youngest position player in the MLB.
Harper has really taken off this year. He had a bit of a disappointing 2014 with only 14 home runs and people began to think of him as a possible bust, especially with the things Mike Trout was doing in Anaheim.
The crazy thing is that we have seen the Bryce Harper of 2015 before. In April of 2013, Harper was arguably the best player in the MLB at the age of 19. Harper was hitting .334 with nine home runs. He seemed poised for a monster season in which what would have been his first full major league season.
2013 was going great for Harper until a game in Los Angeles on May 13th. While going after a deep fly ball from Dodgers catcher AJ Ellis, Harper collided with a wall which shook him up. Harper didn't seem to be injured, but it did require a stint on the disabled list.
Whether it was a coincidence or not, Harper never seemed to recover from that collision due to discomfort in his knee and his side.
Is it possible that it has taken Harper almost two years to completely heal from the collision? That isn't entirely the case, but Harper is the healthiest he has been in his career and what a treat it is for the Major Leagues.
If Harper can continue on this pace, he will undoubtedly win the NL MVP. Harper would be the youngest MVP in the last 32 seasons, since Cal Ripken won the award in 1983 at the age of 22.
Harper is currently leading all NL Players in All-Star voting. He will look to continue his hot start on Friday night when the Nationals begin a three-game series in Cincinnati.