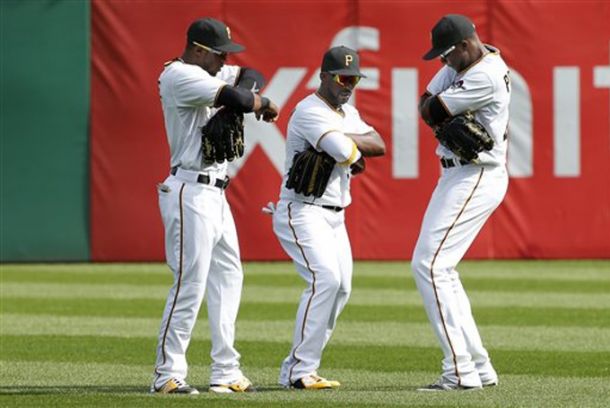 American League
Yesterday's Scores
Chicago (AL) 3, Baltimore 2 (Game 1)
Chicago (AL) 3, Baltimore 6 (Game 2)
Boston 5, Texas 1
Detroit 2, Los Angeles (AL) 12
New York (AL) 4, Oakland 5
Cleveland 5, Seattle 3

Today's Headlines
Kluber Strikes Out Thirteen in 5-3 Victory
After a May 7 start in Kansas City, analysts were skeptical of whether the 2014 American League Cy Young Award winner Corey Kluber was a real star in Major League Baseball, but now there should is no doubt. Yesterday, Kluber overcame three earned runs against himself to get the win against a hot Seattle Mariners team that came in on a three-game winning streak.
In addition to leading his team to victory, Kluber struck out thirteen Mariners and improved his record to 3-0 with fifty strikeouts in his last four starts. Cleveland second baseman Jason Kipnis led the Tribe offensively with two runs batted in on two hits while Brandon Moss drilled his eighth home run of the season in the second inning off of Seattle's James Paxton.

Eduardo Rodriguez Dominates in ML Debut
Going into Thursday night's Boston at Texas matchup, the bright lights and attention were on Josh Hamilton since it was his first game back in Arlington after going to Anaheim to be an Angel. This morning, though, everyone was talking about Boston Red Sox' rookie Eduardo Rodriguez.
Rodriguez, who was traded from the Baltimore Orioles for Andrew Miller at last season's trade deadline, threw seven and two-thirds innings of shutout baseball while striking out seven. Despite getting knocked around in Louisville as a part of the Pawtucket Paw Sox (Triple-A affiliate of Boston) for five runs (two earned) on nine hits in his previous start, the lefty with a fastball, changeup, and a slider in his repertoire was amazing last night and held the trio of Prince Fielder, Adrian Beltre, and Elvis Andrus to 1 for 11 at the plate.
Josh Hamilton did not disappoint the fans in his homecoming as he had the best game of a Ranger by going 2 for 4 with one run batted. Unfortunately, no one will remember his performance thanks to Eduardo José Rodriguez.

Top Hitting Performers
1. Chris Iannetta LAA
---2-4, HR (3), 2B, 4 RBI, & run scored
2. Adam LaRoche CWS
---4-7, HR (5), 2 2B, 3 RBI, & run scored
3. Chris Davis BAL
---2-6, HR (11), 2B, 3 RBI, & 2 runs scored
4. Brian McCann NYY
---3-4, HR (7), 2 RBI, run scored
5. Matt Joyce LAA
---2-4, HR (3), 2 RBI, & run scored

Top Pitching Performers
1. Chris Sale CWS
---(W, 4-2) 7.2 IP, 4 H, & 12 K
2. Eduardo Rodriguez BOS
***Major League Debut
---(W, 1-0) 7.2 IP, 3 H, & 7 K
3. Corey Kluber CLE
---(W, 3-5) 7.0 IP, 7 H, 3 ER, & 13 K

Standings
AL East GB
1. New York 25-23 --
2. Tampa Bay 24-24 1
3. Baltimore 22-24 2
4. Boston 22-26 3
5. Toronto 22-27 3.5

AL Central GB
1. Minnesota 28-18 --
2. Kansas City 28-18 --
3. Detroit 28-21 1.5
5. Cleveland 22-25 6.5
4. Chicago 21-25 7

AL West GB
1. Houston 30-18 --
2. Los Angeles 24-24 6
3. Seattle 23-24 6.5
4. Texas 23-25 7
5. Oakland 18-32 13

Today's Schedule
4:05 PM EST
Kansas City (4-3 Volquez) at Chicago (NL) (4-4 Arrieta)
7:05 PM EST
Tampa Bay (3-2 Karns) at Baltimore (5-3 Gonzalez)
8:05 PM EST
Boston (2-1 Wright) at Texas (4-6 Gallardo)
8:10 PM EST
Chicago (1-0 Rodon) at Houston (1-0 McCullers)
8:10 PM EST
Toronto (5-4 Buehrle) at Minnesota (3-3 May)
10:05 PM EST
Detroit (3-5 Sanchez) at Los Angeles (AL) (3-3 Santiago)
10:05 PM EST
New York (AL) (0-2 Capuano) at Oakland (5-2 Gray)
10:10 PM EST
Cleveland (4-1 Bauer) at Seattle (1-5 Walker)

What to Watch
4:05 PM EST
28-18 Kansas City (4-3 Volquez)
@ 25-21 Chicago (NL) (4-4 Arrieta)

Will this be the year that the Chicago Cubs return to the playoffs? Anything is possible, and a series win against Kansas City this weekend is as well. Although the Cubs are coming off a series that saw them defeated in two of three games thanks to offensive struggles while pitching only allowing three runs at most to the Nationals per matchup, the Kansas City Royals have lost their last four games by averaging only 1.25 runs per contest on 6.5 hits.
Simply put, neither the offense nor the pitching has been with the Royals of late, and that will be bad news if the trend continues with Cubs starter Jake Arrieta, who has a earned run average of 2.14 in his last three starts, on the mound and third base phenom Kris Bryant seeing the ball very well with two long bombs in his last three games. However, Kansas City starter Edinson Volquez did have Chicago's number as a member of the Pittsburgh Pirates last season and was 2-0 in three starts with an earned run average of 0.56.

Hot Hitters
Kansas City
Mike Moustakas
---.379 BA (11/29), HR, & 3 RBI in last eight games.
Chicago (NL)
Kris Bryant
---.300 BA (3/10), 2 HR, & 2 RBI in Washington Nationals three game series.
National League
Yesterday's Scores
Pittsburgh 11, San Diego 5
Atlanta 0, San Francisco 7

Today's Headlines
Pirates Sail to Seventh Straight Victory
If San Diego is the best park for pitchers in Major League Baseball, don't tell Clint Hurdle's Pittsburgh Pirates. Last night at Petco Park, Pittsburgh captained by 2013 National League Most Valuable Player Andrew McCutchen obliterated Padres pitching starting with a Jung Ho Kang first inning homerun to take a 3-0 lead.
Later in the third inning, Starling Marte shot a ball out to the left field seats to extend the lead to 6-0. San Diego was able to muster five runs on Pirates' starter A.J. Burnett thanks to a combination of productive outs, RBI singles, and errors, but it would prove futile as Josh Harrison and Andrew McCutchen turned the lights off with one RBI double each in the top of the sixth. Cutch would end the day three for five with two runs batted in and two runs scored.

Giants Rookie Pitcher Heston Shuts Down Atlanta
Who needs Jake Peavy with how Chris Heston has pitched this season? Heston, a right-handed pitcher from East Carolina University, has filled in perfectly for Peavy, who is currently rehabing in Triple-A Sacramento. Late last night, Heston sent Atlanta Brave after Brave back to the dugout in their insurmountable tries to plate runs.
While Heston was dominating for San Francisco, Shelby Miller was dealing for Atlanta until the seventh inning when Giants first baseman Brandon Belt belted an opposite field home run to put the first run on the board. Miller would finish the inning unscathed any further, but the damage was already done.
The following inning, San Francisco would add six more runs on relievers Brandon Cunniff and Donnie Veal to send Atlanta to a 1-3 record on their California road trip.

Top Hitting Performers
1. Andrew McCutchen PIT
---3-5, 2 2B, 2 RBI, & 2 runs scored
2. Starling Marte
---1-3, HR (10), 2 RBI, & 2 runs scored
3. Jung Ho Kang PIT
---1-5, HR (3), 3 RBI, & run scored
4. Will Middlebrooks SD
---3-4, RBI, & run scored
5. Brandon Belt SF
---2-4, HR (6), 2B, RBI, & 2 runs scored

Top Pitching Performers
1. Chris Heston SF
---(W, 5-3) 7.1 IP, 4 H, & 6 K
2. Shelby Miller ATL
---(L, 5-2) 7.0 IP, 5 H, ER, & K
3. Javier Lopez SF
---(H) 1.0 IP & 2 K

Standings
NL East GB
1. Washington 28-19 --
2. New York 27-21 1.5
3. Atlanta 23-24 5
4. Philadelphia 19-30 10
5. Miami 18-30 10.5
NL Central GB
1. St. Louis 31-16 --
2. Chicago 25-21 5.5
3. Pittsburgh 25-22 6
4. Cincinnati 19-27 11.5
5. Milwaukee 16-32 15.5
NL West GB
1. Los Angeles 28-18 --
2. San Francisco 29-20 .5
4. San Diego 23-26 6.5
3. Arizona 21-25 7
5. Colorado 19-26 8.5
Today's Schedule
4:05 PM EST
Kansas City (4-3 Volquez) at Chicago (NL) (4-4 Arrieta)
7:05 PM EST
Colorado (1-0 Bettis) at Phiadelphia (5-3 Hamels)
7:10 PM EST
Miami (4-2 Haren) at New York (NL) (5-2 Harvey)
7:10 PM EST
Washington (3-5 Strasburg) at Cincinnati (2-4 DeSclafani)
8:10 PM EST
Arizona (4-2 De La Rosa) at Milwaukee (2-5 Nelson)
8:15 PM EST
Los Angeles (NL) (3-0 Bolsinger) at St. Louis (2-3 Lackey)
10:10 PM EST
Pittsburgh (2-4 Liriano) at San Diego (6-0 Shields)
10:15 PM EST
Atlanta (3-1 Foltynewicz) at San Francisco (2-4 Hudson)

What to Watch
10:10 PM EST
25-22 Pittsburgh (2-4 Liriano)
@ 23-26 San Diego (6-0 Shields)

How can the Padres stop a Pirates' attack at Petco Park? With Shields! James Shields has not disappointed for San Diego since leaving Kansas City and is off to his best start of his career with a 6-0 record. Strangely, the right hander from Newhall, California, has won half of his games despite allowing three or more earned runs while receiving no decisions in three starts where he gave up less than two runs.
Another factor that could play as an advantage for the Padres is that only three Pirates (Francisco Cervelli, Sean Rodriguez, and Chris Stewart) have faced Shields in their career, but this fact may not matter considering how well Pittsburgh has hit the ball during its seven game winning streak. During the span, the Pirates have averaged five runs per game, which will be more than enough if Liriano can build on the six-inning, twelve-strikeout performance he had last Sunday against the Mets.

Hot Hitters
Pittsburgh
Jung Ho Kang
---.366 BA (15/41), HR, & 8 RBI during current ten-game hitting streak.
San Diego
Will Middlebrooks
---.409 BA (9/22), HR, & 5 RBI in last five games.