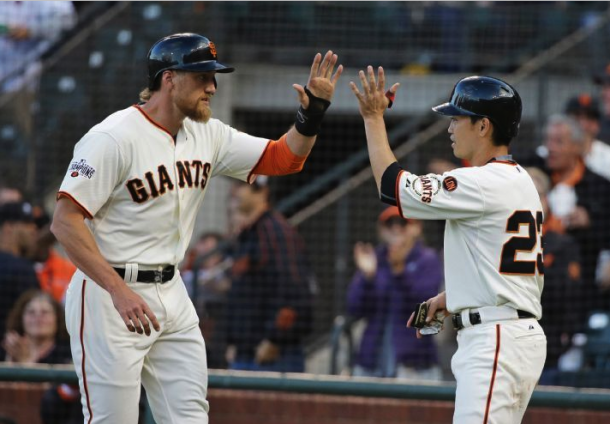 The Giants saw the wrath of Gerrit Cole as he threw 7 innings without allowing a run as the Giants lost their third-straight game, 4-3.
"He's got great stuff. He's having a great year," Giants manager Bruce Bochy said of Cole. "The good ones, especially with that kind of stuff, they find a way to get out of it — and he did. That was pretty much our undoing."
Ryan Vogelsng pitched well, but he starts off June with a loss on his book. He was 4-0 in May. He struggled with letting 2 batters on in the fifth that was his only criticism from others and himself.
"I thought I threw the ball really well," Vogelsong said. "I just made too many mistakes in that fifth inning, and it ended up costing us the game."
Vogelsong has stepped up his pitching really well. He really hadn't gotten used to coming in from the bullpen, he'd much rather be a starting pitcher and he's showing he still can frankly. He had a 1.14 ERA in May, and hasn't had too many bad outings. The Giants pitching staff definitely has been good this season, but they need to step it up to break this 3-game losing streak.
Aoki batted 2 for 4 on the night, he holds a .313 average so far this season and has been a bright spot, as well as holding the team's highest average. Panik hit 2-4, Belt hit 1-4 but knocked in 2 RBI's. After Belt, Pagan, Duffy, and Crawford all batted a huge 0 on the night. the bottom of the lineup just wasn't doing anything, including 2 strikeouts by Pagan.
The bullpen was still a brightspot for the Giants, as Machi and Kontos didn't allow a run and Kontos logged 2 strikeouts in 2 innings.
The Giants will hopefully break this skid Tuesday night when Chris Heston takes the mound.