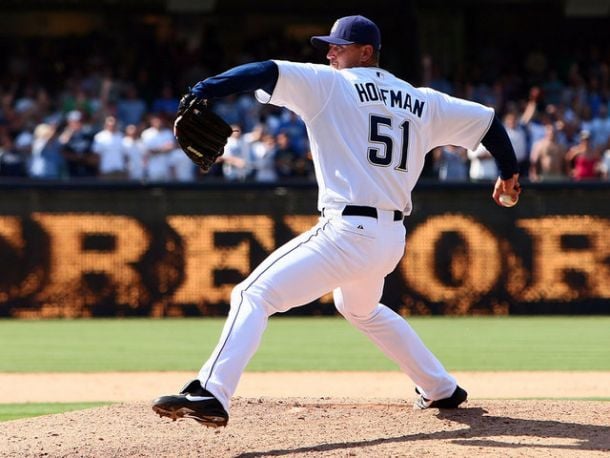 There is no other team that has a history of closers like the San Diego Padres. Two closer, Rollie Fingers and Goose Gossage, are presently in the Baseball Hall of Fame, and they each pitched a number of years in San Diego. Trevor Hoffman is sure to be included once eligible in 2016. The vote happens this summer, and, hopefully Hoffman will be included with long time great Ken Griffey, Jr.
With Hoffman's induction, that would make three Hall of Fame relief pitchers who had extensive tenures with the Padres. The Padres' history at the closer position runs deep, and, thankfully, in modern times, the team hasn't had an issue in the ninth inning. With the addition of Craig Kimbrel, the Padres ' tradition of elite closers will once again be in effect. Kimbrel is under team control for the next four years, and at age 25, he is sure to have his best years ahead of him.
The team came into the National League in 1969, and for the next eight years, a dozen different players got at least seven saves on the season. Billy McCool led the Padres in 1969 with seven saves. Frank Reberger and Tommie Sisk had six saves apiece. In 1970, Tom Dukes saved 10 games for the Padres, and Ron Herbel had nine saves. Al Severinsen and Bob Miller led the Padres in saves in 1971.
The top save earner for the Padres in 1972 was Mike Corkins with six. Mike Caldwell had 10 saves in 1973, and Vicente Romo had nine saves in 1974 to lead the Padres. Butch Metzger in 1976 was the first Padres player to be considered a true closer. He earned 16 saves for the Padres that season.
In the off-season that followed the 1976 season, Fingers was signed away from the Oakland Athletics as a free agent. Fingers agreed to a 6-year, $ 1.6 million dollar deal with the Padres to help turn around the young franchise and solidify its bullpen. Fingers went on to play for the Padres for four years. He went 34-40 with a 3.12 ERA and a 1.250 WHIP. Fingers recorded 108 saves as a Padre in his four years with the team.
Fingers was dealt on December 8, 1980, with Gene Tenace and Bob Shirley to the St. Louis Cardinals for Terry Kennedy, John Littlefield, Al Olmsted, Mike Phillips, Kim Seamen, Steve Swisher, and John Urrea. The Cardinals in turn moved Fingers to the Milwaukee Brewers in exchange for a package of prospects. Fingers played out his contract with the Brewers and retired after one last season in Milwaukee in 1985 at the age of 38.
With Fingers gone, the Padres turned to Gary Lucas, a 25-year-old left-handed pitcher from Riverside, California. Lucas went on to record 49 saves for the Padres from 1980-1983. Lucas wasn't dominant by any means; he relied on a curve ball and a sinker ball to get his outs. His strikeout ratio was very low, and, eventually, he was replaced in 1983 with a fireball-throwing right-handed pitcher from the New York Yankees.
Rich Gossage was that nasty fastball-throwing right-handed pitcher that had grown out of favor with Yankee management. Gossage was outspoken and didn't exactly see eye-to-eye with Yankee owner George Steinbrener. Gossage challenged his authority and was deemed expendable after the 1983 season. Trader Jack McKeon wasted no time in jumping in and giving the former Yankee closer a free-agent deal. Gossage went on to pitch four years for the Padres, going 25-20 with a 2.99 ERA and a 1.164 WHIP. He recorded 83 saves as a Padre and was pivotal in the Padres' National League Championship run of 1984.
Gossage was dealt on February 12, 1988, to the Chicago Cubs for Mike Brumley and Keith Moreland. His loss was filled by a left-handed pitcher who had one of the nastiest curve balls in the league. Ever since Mark Davis was acquired from the San Francisco Giants with Mark Grant, Chris Brown, and Keith Comstock for Dave Dravecky, Craig Lefferts, and Kevin Mitchell, the potential for success intensified. Davis's curve ball was something special, but he had trouble locating it for strikes. Most Major league teams adjusted and just stopped swinging at it. He was forced to reinvent himself, which he did very well.
The 1989 season started out like any other. Davis had recorded 28 saves in his first year as the Padres' closer after they traded Gossage. He was a decent closing option, but few could predict the miracle year he had. In his final year as the Padres' closer, the 28-year-old Davis saved 44 games, a league high. He also recorded a 1.85 ERA and a 1.047 WHIP. Davis struck out 92 batters and was awarded the National League Cy Young award. He finished his career with 78 saves in five total years. In 1993 and 1994, Davis returned to the Padres and played his final two seasons and recorded a 2.75 ERA and a 1.260 WHIP.
After his Cy Young award-winning season, Davis spurned the Padres to sign a lucrative deal with the Kansas City Royals. Thirteen million dollars for four years was way out of the Padres' price range. Therefore, the team turned to an unlikely character for saves. Craig Lefferts was signed as a free agent after spending three seasons in San Francisco. Lefferts was mainly used as a situational lefty in the bullpen, but in his last two seasons as a Giant, he recorded 31 saves. The Padres were very familiar with the left-handed pitcher and knew he had the proper mentality to close.
Lefferts went on to record 23 saves in each of his two seasons closing for the Padres (1990 & 1991). In 1992, the Padres traded Bip Roberts to the Cincinnati Reds for Randy Myers. Myers was in the last year of his contract, and the Reds already had Rob Dibble and Norm Charlton in their bullpen. Myers went on to record 38 saves in the 1992 season. He left after the season to become the Chicago Cubs' closer. Myers's first time around as a Padre was definitely better than the 1998 and 1999 season in which the Padres essentially paid him $13 million dollars to sit on his butt.
The 1993 season saw Greg Harris earn 23 saves as a Padre. Harris was a small right-handed pitcher with an electric curve ball. His fastball was average, so he was not an ideal closer. Harris earned the majority of the saves, but a skinny right-handed pitcher by the name of Trevor Hoffman caught the coaching staff's eyes.
Hoffman worked his tail off each and every day, and being a former infielder, he knew how hard he had to work to keep his job. Hoffman went on to go 2-4 with a 4.31 ERA; he earned three saves but was still raw at the age of 25. Hoffman settled down and started to throw more strikes. With his devastating change-up, Hoffman was unhittable when he was ahead in the count.
Hoffman went on to record a mind-blowing 552 saves as a Padres pitcher. His 16-year Padres career was from 1993 to 2008. Hoffman, the six-time all-star, was 54-64 lifetime with a 2.76 ERA and a 1.043 WHIP as a Padre. He struck out 1,029 batters in 952 innings pitched. Hoffman held the all-time save record until it was broken by Mariano Rivera.
Hoffman's 1998 season, when he recorded 53 saves for the National League Champion Padres, was magical. He was lights out. When fans heard AC/DC's "Hells Bells," they knew the game was over. The intimidation factor that he brought was amazing, especially when considering his out pitch was a change-up. He made hitters look absolutely silly up there from time to time. His Bugs Bunny change up has to be one of the best change-of-pace pitches in the history of the game.
Hoffman was allowed to leave San Diego after the 2008 season. He was picked up by the Milwaukee Brewers and recorded 47 more saves for them in two seasons. Hoffman retired after the 2010 season at the age of 42 with 601 career saves. With Hoffman gone, the Padres turned to a local right-handed pitcher. Heath Bell was acquired from the New York Mets in 2006 with Royce Ring for Jon Adkins and Ben Johnson.
Bell was used as Hoffman's chief setup man and had improved enough to be given a shot at the closer's job. Bell went on to record 42 saves in 2009 and had two more great years as the Friars' closer. He recorded 134 total saves as a Padre and recently retired from baseball.
Upon Bell's leaving the Padres after the 2011 season via free agency, the Padres traded Nick Schmidt to the Colorado Rockies for Huston Street. That turned out great for the Padres. Street went on to record 80 saves for the club from 2012-2014. He was dealt last season with Trevor Gott to the Los Angeles Angels for R.J. Alvarez, Elliot Morris, Jose Rondon, and Taylor Lindsey.
That brings us to the present closer, Craig Kimbrel, a man who could conceivably be a Padre for a long time. At the age of 26, Kimbrel has a solid track record thus far as a closer, recording 46, 42, 50, and 47 saves, respectively, in his first four seasons. Kimbrel is flat-out nasty and arguably the best closer in the game right now. He is signed for the next four seasons and cannot become a free agent until 2019 at the earliest.
From Fingers, Gossage, Davis, Myers, Hoffman, Bell, Street, and now Kimbrel, the bloodline of Padres closers runs deep. It is a great thing knowing that once a team has the lead deep in the game, then the game is essentially over. This is a feeling Padres fans have taken pride in feeling for decades.