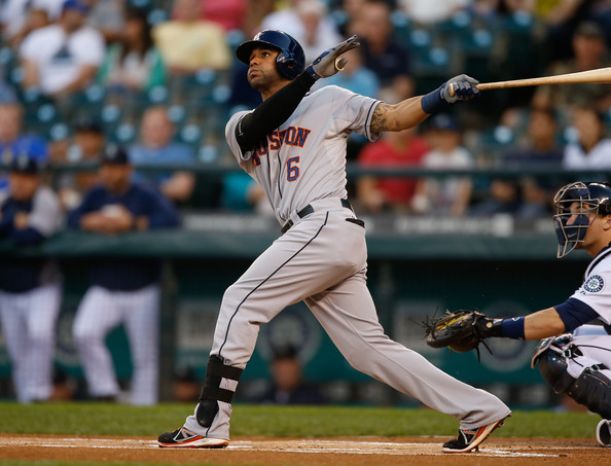 The obvious need for the San Diego Padres is at the shortstop position. General Manager A.J. Preller has been scouring the trade market in attempt to gain a potential upgrade at the position. Nothing has come to fruition yet, but, surely, the Padres are going to make a move at some point.
Perhaps shortstop Jonathan Villar of the Houston Astros would be an option for the Padres. The Astros called up rookie phenom Carlos Correa Monday, and he is the obvious shortstop of the future for that team. Add to the fact that the Astros signed Jed Lowrie to an off-season contract. Lowrie is currently hurt with a thumb injury, but he should be back in the summer. Villar is very much expendable to the team. He could easily be attained by the Padres.
At the age of 24, the switch hitting Villar is still very raw, but he does have potential. He has a lot of speed, but he has struggled to walk and get on base. That is not a very good combination for a potential lead-off hitter. He could develop in time, however, and he has shown some improvement this year in the Major Leagues.
In 37 games and 91 at bats this season, Villar has a batting line of .264/.320/.374. He has stolen four bases, scored 11 runs, and hit one home run with seven RBI's. These are not fantastic numbers, but they are better numbers than what the Padres are presently getting out of the Barmes/Amarista combo. No one can argue that.
Villar is not considered a prized prospect in the farm system of the Astros. They have one of the deepest farm systems in the game, and dealing him wouldn't be a huge loss for the Astros. His defense on the field is viewed as average, but he does have a strong arm and good speed/range. Some question his decision making, but he can easily fix that with some quality tutelage.
With that being said, the Padres could attain him for a Minor League outfielder. Perhaps Abraham Almonte would interest the Astros. The Astros are reportedly looking for starting pitchers. They have been linked to Cole Hamels, and they possess the farm system to get a deal done. It remains to be seen if Hamels would want to pitch in Houston and if a deal could be agreed upon.
With the Astros' need for a starting pitcher, perhaps Andrew Cashner would interest them. Being a native Texan is something the Astros hold in high regard. The price tag on Cashner wouldn't be cheap, and the Astros would surely need to part with more than just Villar.
Could A.J. Preller work his magic and deal Cashner to the Astros for some of their young talent? It's no secret the farm system of the Padres is depleted. The Padres' top pick in this season's draft, which started Monday, is the 51st pick. They lost their top two picks with the signing of James Shields and the acquisition of closer Craig Kimbrel.
Cashner would easily command Villar and a couple of mid/top prospects. Would the Astros move Lance McCullers, Jr., in a deal? He would surely be of interest to the Padres, and his father, McCullers, Sr., was a Padres set-up man from 1985-1988. "The Baby Goose" was Rich Gossage's chief setup man before setup men were fashionable.
Cashner would provide the Astros with a Major League-ready pitcher in return for some prospects. Interestingly enough, Cashner would have to pitch better to make this potential deal a reality. He has been too inconsistent so far this season. In an alternative move, the Padres could move some outfield depth in the Minor Leagues for Villar. Either way, a deal could easily be consummated between these two teams.
Jonathan Villar would provide an upgrade for the Padres. Is he the shortstop of the future? Probably not, but he would give the Padres a better player at a pivotal position. His speed is noteworthy, but Villar does have some deficiencies, too. Preller is most likely busy with all the draft preparation, but Padres fans suspect a trade should be near. We will just have to wait and see what road the Padres take.