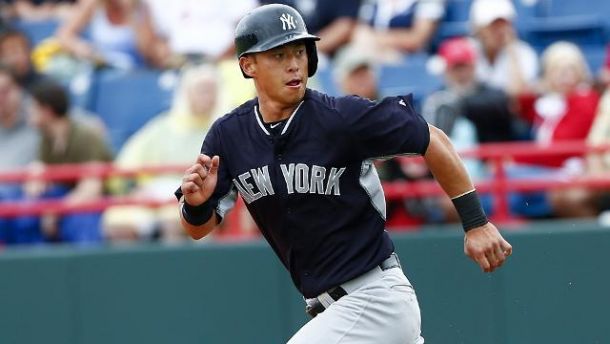 The New York Yankees will officially call up second base prospect Rob Refsnyder prior to the team's Saturday evening game against the Boston Red Sox, according to Jack Curry of the YES Network.
Refsnyder, 24, is enjoying another fine season in the minor leagues this year. Through 81 games for the Scranton/Wilkes-Barre RailRiders, Refsnyder boasts a .290/.387/.413 slash line with seven home runs and an identical amount of walks and strikeouts (44). Not only are those numbers an encouraging sign, but since June 1st, Refsnyder has been as hot as anybody in the International League.
As noted by Sweeney Murti of WFAN, Refsnyder is hitting .407 over his last 15 games, leads the IL in OBP with his .387 mark, and his defense has improved, as he's only committed two errors since June 1st. Therefore, the Yankees are promoting him with the belief that his recent hot streak in the minors will carry over onto the Major League stage.
With the Yankees set to face two left-handed pitchers the next two days (Eduardo Rodriguez and Wade Miley), Refsnyder and his right-handed bat will likely receive the starting assignment the next two days. Also, the incumbent Stephen Drew continues to struggle with the bat. Entering play on Friday, Drew's batting average continues to hover below the Mendoza Line, as he's batting just .181/.257/.374 with 12 home runs and 25 RBI.
In a recent article by Vavel's newest writer Kevin Hayes, it was determined that Drew's offensive shortcomings are not offset by his glove as his defense measures below average as well. Therefore, it would not take much for Refsnyder, or any potential replacement, to improve upon the production coming out of the keystone.
The Yankees will need to make both a 25-man and 40-man roster move to accommodate Refsnyder on the Major League roster. Automatically, recent call up Cole Figueroa becomes the likeliest player to be sent down with other players such as Gregorio Petit as options.