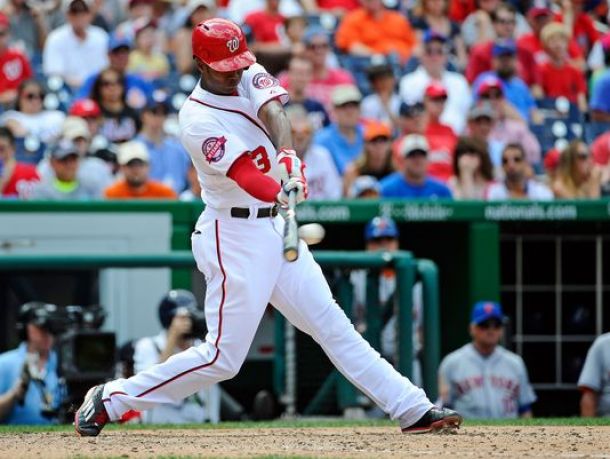 In just less than 18 hours from what could have been one of the biggest hits of the season by Eric Campbell, a huge opportunity slipped threw the fingers tips of the New York Mets.
The Mets were hoping to steal the rubber match in today's game against the Washington Nationals, and early on it was looking pretty good. The first inning and a half was rather quiet for both teams as Noah Syndergaard of the Mets and Jordan Zimmermann of the Nationals faced only 10 total batters.
Syndergaard continued to throw well in the bottom of the second inning, but then things got a little dicey. After retiring the first two hitters, Dan Uggla and Clint Robinson, Syndergaard hit a little wall. He gave up a single to Wilson Ramos, which was then followed by two walks to Ian Desmond and Matt den Dekker. Lucky enough for Synderdaard, the pitcher's spot was up next and Zimmermann hit a soft line drive back at him for the third out.
New York was quiet yet again in the third inning but woke up in the fourth. Ruben Tejada led the inning off with a single to right center, and that was followed up with another single by Daniel Murphy. The Mets seemed to be in business with the four and five hitters coming up but they couldn't come through. Lucas Duda continued his poor hitting with a strike out, and then Wilmer Flores flew out to left.
So with the first two runners getting on, the Mets were in an all too familiar spot where they weren't able to drive in those runs. But then came Kirk Nieuwenhuis smacked a ball in the left-centerfield gap, driving in both Tejada and Murphy to give the Mets a 2-0 lead. Kevin Plawecki followed that up with a big hit of his own, singling up the middle, which brought Nieuwenhuis around to extend the lead to three.
Syndergaard, unfortunately, gave one run back in the bottom half of the inning, but he looked very good yet again on Wednesday afternoon. Syndergaard finished his day early due to a high pitch count, but he was able to bear down when he needed to. His final line was five innings pitched with one earned run, five walks, and four strikeouts. Noah handed the ball over to his bullpen, and everything seemed to be under control.
Hansel Robles was the first man chosen out of the pen by manager Terry Collins. Robles started slow as he gave up an infield single to Ian Desmond followed by a walk to den Dekker, putting runners on first and second. Zimmermann was called on to sacrifice the runners over, and successfully handled that. Next up was Michael Taylor, who went down swinging. Then came the Met-killer, Danny Espinosa, but Robles got him to hit a soft ground ball to shortstop to retire the side.
The Mets couldn't add to their lead in the seventh, so the score remained 3-1. Jenrry Mejia was the next man out of the pen, and made it look easy as he shut down the Nationals in order. Mejia got Bryce Harper to ground out, stuck out Dan Uggla, and got Robinson to fly out to right to end the inning.
The top half of the order was due up for New York in the eighth — Tejada, Murphy, and Duda — but they went down rather quietly. Bobby Parnell was the third guy called upon by Terry Collins, and he has been very good since he came back from his Tommy John surgery.
Parnell started the eighth inning very strong, as he made quick work of Wilson Ramos getting him to strike out. But this was when things got interesting. Parnell walked Desmond, and then den Dekker singled up the middle. Tyler Moore was up next to hit for the pitcher Matt Thornton, and he hit a hard line drive to left that was caught for an out.
So with two outs, and like he's done many times this year, Terry Collins had the option of bringing in Jeurys Familia for the four-out save. But shockingly enough, Collins didn't even have Familia warming up in what could be one of the biggest games of the Mets' season. That said, it was all up to Parnell to get through the inning.
Parnell was in a good battle with Michael Taylor but, on the 2-2 pitch, Parnell threw a curveball in the dirt that got away from catcher Kevin Plawecki. Both Demond and den Dekker advanced on the pitch and put themselves into scoring position. Now with a base open the Mets had the option to pitch carefully to Taylor with a full count, or go right after him. Parnell went after him and it didn't work out. Taylor ripped the ball to right field for a single, bringing around both runners to tie the game.
On the first pitch of the next at-bat, Taylor was able to steal second. Then Danny Espinosa came up big yet again, and poked the ball down the left field line for a double, giving the Nationals a 4-3 lead. The Mets' lead was gone in a flash, and they would have to find a way to come back in this one if hey wanted to steal the series.
Unfortunately, they couldn't as Nationals closer Drew Storen came in and just shut the game down. Storen got the benefit of some poor umpiring as he struck out the side, giving the Nationals a big victory, and pushing their division lead back to three games.
In any given season, baseball teams probably win anywhere from 90-to-95 percent of their games, leaving the other five percent or so to losing. What that means is that there will be a few games in a season that teams will give away, or there may be some managerial mistakes. Today was one of those games for the Mets and Terry Collins.
It is absolutely inexcusable that Collins did not have Familia ready to go in the eighth inning when there were two outs. Time and time again this year, Collins has brought Familia in to get four or more outs in a game, but in what was the biggest game to date, Collins is asleep at the wheel. Collins did take blame for that after the game, but that doesn't take away how big of a mistake that was.
Collins is lucky enough to still have a job, but due to the fact that there has been injuries to key players and the front office's lack of bringing in good talent, he has gotten a pass over the years. But if you are able to watch most Mets games, you can see that his managerial skills are subpar at best, and there are times that he looks like he has no idea of what is going on. People want to give him a pass for not having his best players, and rightfully so at times, but today's loss is on him because he wasn't prepared in a big spot of a big game.