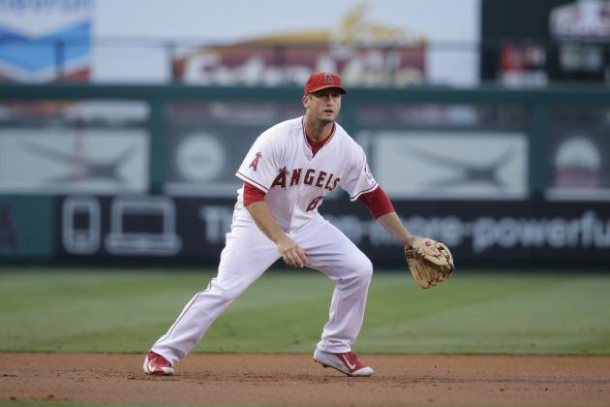 Wednesday night's game between the Los Angeles Angels and Minnesota Twins included a scary moment for the Angels and their fans when, during the fourth inning, third basemen David Freese got hit with a pitch. The news does not get better for Freese, the Angels, or their fams. Freese has a fractured right index finger, and the team has placed him on the disabled list. The team will most likely call up third basemen Kyle Kubitza from Triple A Salt Lake to fill in the spot on the roster in Freese's absence. The timetable for Frees's injury will most likely be two weeks.
So far this season for the Angels, Freese has a .240 batting average with 11 home runs, 43 RBI, and an OBP of .309. He has been playing great as of late, helping the team get into first place in the A.L. West with a five-game lead over Houston Astros. His hitting has been pretty good of late, and he also has been playing good defense as well.
Freese is a good third basemen; he is a good hitter, and he knows how to get on base when he needs to. He is known for hitting 20+ home runs per season. Maybe if this injury has not happened, he would have been on track for 20 or more home runs this season as well.
Freese is also pretty good defensively. He has a good arm that can throw out a lot of base runners. He is the type of guy that manager Mike Scioscia can put in the top or bottom half of the lineup, and he will produce good productive numbers for Scioscia's team.
The Angels will be missing a productive player in Freese for, most likely, the next two weeks. The team is actually riding high right now, winning seven games in a row. He has been giving the lineup a productive hitter. He has been getting on base of late despite having the lowest batting average of his career. His defense will also be something they will miss. The team is lucky that the injury to Freese was not a long-term injury.
Kubitza will probably get some starts at third base for the time being.
On the Freese side of things, he will be out for a couple of weeks. Once he comes back to the lineup, it might take him a couple days to get his swing back. He will most likely be fine, though, depending on any setbacks. His defense will be valuable to the Angels once September comes and the road to the playoffs kicks into high gear.