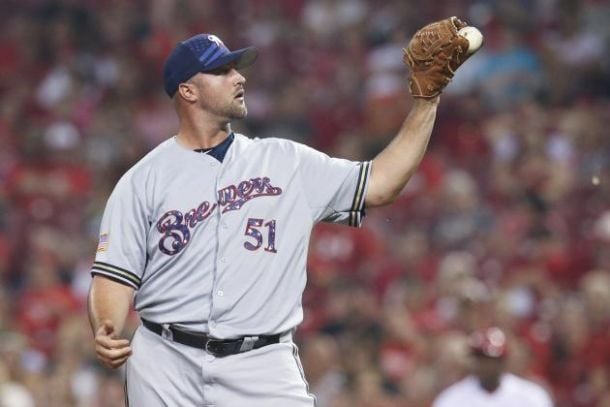 Looking for some bullpen help, the St Louis Cardinals have acquired pitcher Jonathan Broxton and cash from the Milwaukee Brewers for Malik Collymore. Milwaukee is already have a losing season and trading away veterans, so it makes sense for the team to make this deal.
This season for the Brewers, Broxton has a record of 1-2, an ERA of 5.89, 0 saves, and 37 strikeouts with a WHIP of 1.39. Being a relief pitcher with those kind of stats is bad, and Broxton did not really have his best season. His ERA is high, and his strikeout total is low. Pitching for a losing team did not help, so perhaps getting him on a winning team will most likely turn his season around.
Even though Broxton is not having that good of a season, he is still a good relief pitcher. He has good pitches, he knows how to keep the ball in the strike zone, and he has good command of his pitches. The Cardinals hope that putting him in a good situation in which he can win will help him perform better for his new team. He has closer experience, collecting 118 saves in his 11-year career, but he will most likely fit into a setup role with Trevor Rosenthal closing out games for the Redbirds.
The Cardinals get a steady relief pitcher in Broxton. He gives St. Louis a veteran pitcher with postseason experience in four different years, and he could bring even more leadership to the clubhouse. The team is pushing very hard for a run deep into the postseason, so a guy like Broxton will help out tremendously as the Cardinals look to make it back to the World Series for the first time since 2013 after barely missing it last year. The cash the Cardinals receive will help as well.
The Brewers are getting a good prospect in Colleymore, someone whom the team could use in its rebuilding process. Expect Milwaukee to make even more moves today since the team is in selling mode and trying to trade its better players for prospects and draft picks.