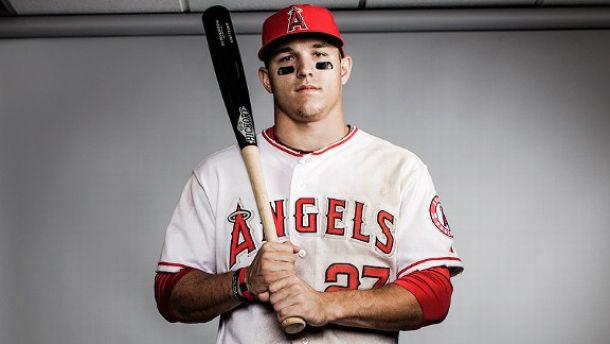 Los Angeles Angels phenom Mike Trout just turned 24-years-old and marked the occasion in grand style by launching yet another home run. The young slugger is in the midst of a phenomenal 2015 season, having currently racked up 33 home runs and an OPS of 1.008. He will easily surpass his career-best 36 home runs from last year and to put the OPS number in perspective, a mark of .900 is considered a great season. Trout is exceptional, and he's just getting started. We could be watching an All-Time great grow up before our eyes.
To further put Trout's performance in perspective, let's take a look through the eyes of some advanced statistics. A passion of hardcore stat heads for years, advanced statistics have been embraced throughout MLB and play a large role in many front office decisions. We'll take a look at three of them: wOBA, WRC+ and WAR. Here's a brief explanation on each for those who are unfamiliar:
wOBA: Attempts to credit a hitter for the value of each specific outcome rather than treating them all equally.
wRC+: Similar to wOBA but also factors in park effects and the current offensive environment
WAR: Attempts to summarize a player's contributions to their team in one statistic
Trout knocks it out of the park on all three measures, both for 2015 and cumulatively throughout his young career (all statistics courtesy of Fangraphs):
wOBA: 2015: .422. Career: .407. A mark of .370 is considered great.
wRC+: 2015: 180. Career: 168. A mark of 140 is considered great.
WAR: 2015: 6.5. Career: 36.0. A player with a mark between four and five would be considered an All-Star level talent.
It's hard to believe that the 24-year-old Trout has already played in 600 MLB games. The slugger went into his 24th birthday with 130 home runs, tied for fourth All-Time for players his age with Frank Robinson, and behind only Eddie Matthews, Mel Ott, and Ken Griffey Jr..Trout's 288 extra-base hits before 24 ranks sixth all-time, behind Ott, Griffey, Ted Williams, Alex Rodriguez and Jimmie Foxx. Pretty good company for the young superstar to keep, as all of the above went on to become legends.
Trout has been showered with accolades, and his trophy case only promises to get more crowded. Some of the trophies and honors on Trout's resume include:
2012: American League Rookie of the Year
Second-place, 2013 MVP voting
2014: American League MVP
Three All-Star Game starts
Young talents like Trout, Bryce Harper, Giancarlo Stanton, Paul Goldschmidt and Kris Bryant are leading baseball into a minor renaissance, but it remains to be seen who will go down in the history books as the greatest. The debate promises to carry over well into the 2020s. This writer's money is on Trout, slightly edging out the Nationals' Harper in this era's version of Mickey Mantle vs. Willie Mays. Regardless of who winds up on top, enjoy the ride, and realize that we are in the midst of something truly special.