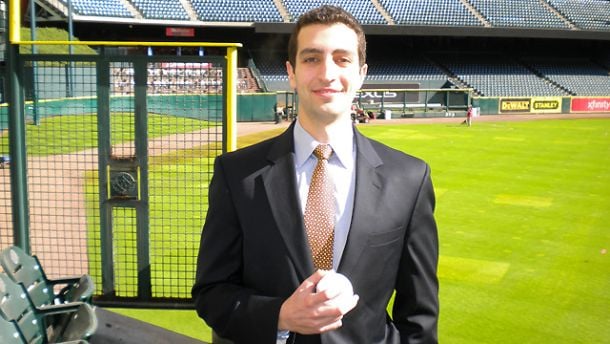 The Milwaukee Brewers have officially named David Stearns as their new general manager after making the announcement in an afternoon presser today at Miller Park. Fox Sports' Ken Rosenthal reported yesterday that the club was on the verge of making it happen, pending the completion of the hiring process which they needed to go through in order to make it happen.
Before reporting that the club was on the verge of bringing Stearns in, Rosenthal reported that he was emerging as the leading candidate for the job, while waiting for the completion of the hiring process on the Brewers side of things. CBSSports.com's John Heyman later reported that Stearns would indeed be their GM, given the expectation that the process has been finished, pending the approval of the Houston Astros of course.
Stearns, 30, is a graduate of Harvard University and is known to be an analytical type of guy, which of course is great for the club as they look to bulk up with guys who own stronger numbers than what they have had in the past. Milwaukee's rotation needs to be fixed and the lineup needs to be built up once again.
Before settling into his position in Houston as the assistant GM, Stearns was with the Cleveland Indians where he spent 2011-2012 as the director of baseball operations. As mentioned by MLB.com, Stearns had spent even more time in the Major League Baseball system, serving from 2008-2011 in the office of the commissioner where he held a spot as manager of Labor Relations, which meant he was involved in the player salary arbitration cases, handling contracts and negotiating with teams.
Mentioned also by MLB.com, David worked in the Baseball Operations Department with the New York Mets, Pittsburgh Pirates, and assisted with the Arizona Fall League as well. Having been by Jeff Luhnow's side for the past three years, he has assisted in player evaluations, player transactions, contract negotiations, and has overseen the work of the Astros scouting and player development system.