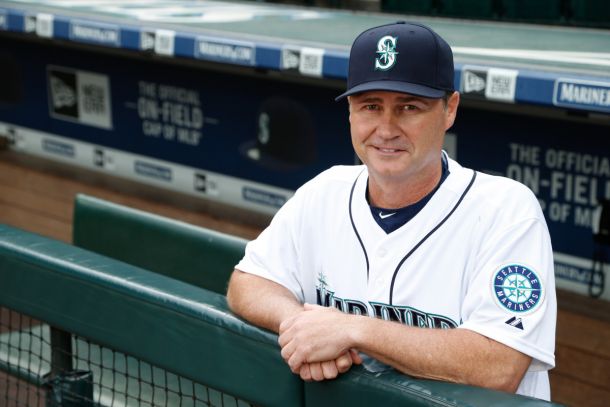 The Seattle Mariners will name Scott Servais, the former assistant general manager of the Los Angeles Angels, as their new manager, according to Mike DiGiovanna of the LA Times. Meanwhile, Tim Bogar, who was a finalist for the job, will serve as the bench coach for the Mariners.
Servais has no Minor League or Major League experience as a manager, which automatically makes this an interesting story to watch throughout the next few seasons.
The new manager of Seattle played catcher for 11 seasons (1991-2001) with the Houston Astros, Chicago Cubs, San Francisco Giants and Colorado Rockies. He slashed .245/.306/.375 with 63 home runs and 319 RBI over 820 games played.
When Servais was assistant general manager of the Angels, he was working under Jerry Dipoto, who is now the general manager of the Mariners. The hire of Servais and Bogar were made by Dipoto.
The former catcher is replacing Lloyd McClendon, a former outfielder, who was fired after Seattle finished 76-86. The Mariners have not made the playoffs since 2001 and are one of two MLB teams to never play in a World Series.
Servais, 48, worked as the senior director of player development for six seasons (2006-2011) with the Texas Rangers. He oversaw the minor league system and provided recommendations for trades and signing.
Before his stint with the Rangers, he worked with the Cubs as a catching instructor for two years and a profession scout with the Rockies for one season, which was when Dipoto was serving as the director of player personnel in Colorado.
Both Dipoto and Servais had multiple issues with the coaching techniques of Mike Scioscia, which should mean both the general manager and manager will be on the same page in Seattle. The three disagreed on coaching, instruction used in the Minor League and analytics.
Bogar managed for the Angels as well, but it was for the Double-A Arkansas Travelers in 2013. To start the next season, he became the Rangers full-time bench coach, but took over as the interim manager after Ron Washington resigned. During his month as manager, Texas went 14-8.
Bogar played the infield for nine seasons (1993-2001) in the Major League for the New York Mets, Astros and Los Angeles Dodgers. He hit just .228 over his career with 24 home runs and 161 RBI, but made 47 errors over 659 games played over his career.
The 49-year-old found his way back in the Angels organization as the special assistant to the general manger. Bogar stayed after Dipoto resigned, but took no time accepting the bench coach job under Dipoto and Servais.
An announcement from the club is expected Friday afternoon.