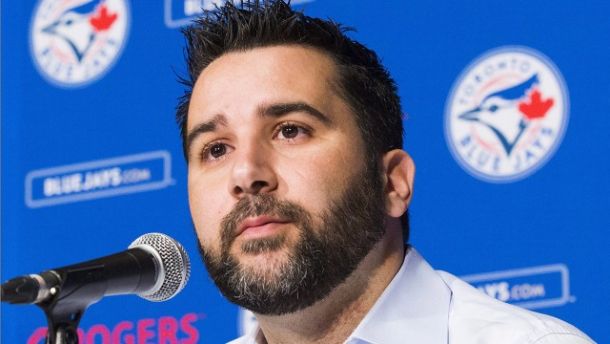 The Toronto Blue Jays and GM Alex Anthopoulos have parted ways after he rejected a five-year contract extension just days before his current contract expires, as reported this morning by Sportsnet's Shi Davidi.
According to the Toronto Star, Anthopoulos said, "I just didn't feel like this was a right fit for me going forward."
The news comes less than a week after the American League East champions were eliminated from postseason play, as well as the arrival of new president Mark Shapiro who was hired on the 31st of August.
It is said that Shapiro will officially take over in the place of Paul Beeston starting Monday.
As noted by Davidi, details as to what exactly took place prior to the big news are unclear at the moment, but the split, however, is not thought to be financial.
The two sides reportedly started discussing the matter after the Kansas City Royals bumped the Blue Jays out of the ALCS.
As far as Alex's love for the city goes, he said during his season-ending news conference on Monday morning that it was his decision not to negotiate during the playoffs. He also added, "All I can say is I love being here, I love Toronto, I've always maintained that, and that's probably as far as I'd go with that."
Anthopoulos was a key part of the franchise this season as he did everything he could to turn this team into a contender after a 22 year playoff drought, dating back to 1993.
The next step for the franchise is yet to be determined as it is likely that manager John Gibbons will be moving on in the near future as well.
The Blue Jays lost the ALCS to the Kansas City Royals in six games. During the five years in which Anthopoulos spent in Toronto, the Blue Jays held a record of 489-483.
Mark Shapiro had previously served as the GM to the Cleveland Indians from 2002-10 before taking over as the club's president.
Davidi mentions the possibility that Shapiro might take control of the day-to-day baseball operations with the Blue Jays, or perhaps hire a GM to execute his vision.
With Anthopoulos out, it raises a question as to what will the future hold for assistant GM Tony LaCava alongside manager John Gibbons, who is under contract for the coming season with an option for 2017 and a club option for 2018 if he makes it to the 1st of January.
Key acquisitions made by Anthopoulos over the years include Josh Donaldson who came over mid-season in a deal that sent Brett Lawrie to the Oakland A's.
Other notable deals include two blockbuster trades made in 2012, where the club acquired Josh Johnson, Jose Reyes and Mark Buehrle from Miami, and R.A. Dickey, Josh Thole and Mike Nickeas from the New York Mets.
The greatest trade to date would be the acquisitions of both shortstop Troy Tulowitzki from Colorado and left-handed pitcher David Price from Detroit.
Looking back on both trades, they could both definitely be thought of in a negative light given the injury to Josh Johnson before releasing him, as well as R.A. Dickey who is too unpredictable given the fact that he throws a single pitch which nobody knows what it will be like one day as compared to another.
Looking at the farm system over the years, those who have developed under his watch either as draftees or international free agents include RHP Marcus Stroman, RHP Aaron Sanchez, RHP Roberto Osuna, OF Kevin Pillar, RHP Noah Syndergaard, SS Adeiny Hechavarria, and LHP Daniel Norris.
Four of them remain on the Blue Jays active roster as the rest of them have been used to acquire major league ready talent at a time where Toronto looked to compete.