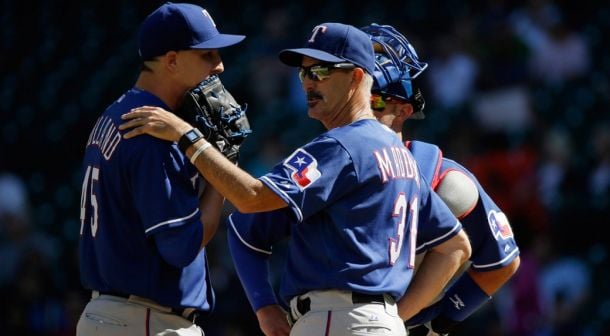 The Washington Nationals are set to bring aboard Mike Maddux as the club's new pitching coach, according to a report from William Ladson of MLB.com on Wednesday afternoon.
Two sources had indicated earlier in the day that Mike was likely joining the team. As of now, the club has confirmed the news.
The news comes a week after Maddux and the Rangers parted ways as Mike said he wanted to shop around rather than re-sign in Texas for an eighth season.
Maddux joins a club already in re-building mode just days after the World Series comes to an end in which the club was not able to reach post-season ball for what would have been only their fourth major league title in franchise history.
Maddux was first contacted by Washington two weeks ago when the Texas Rangers provided a free-agent window for him to negotiate with any team, terms of his contract were agreed upon last night.
Maddux had spent the previous seven seasons as the pitching coach of the Texas Rangers. Before that, he held the same job with the Milwaukee Brewers from 2003-2008.
Having had Mike manage Texas pitching for the time span in which he spent in Arlington, Rangers pitchers have posted a combined ERA of 3.83 from 2010-13 which was ranked third best among AL staffs.
Maddux is the older brother of Hall of Fame pitcher Greg Maddux who spent his entire 23-year playing career with the Chicago Cubs, Atlanta Braves, Los Angeles Dodgers and San Diego Padres. Greg was known best during his time with the Braves and Cubs and officially retired as a member of the Padres in 2008.
The club will look to get as much as they can out of an All-Star rotation which includes RHP Max Scherzer, RHP Stephen Stasburg, LHP Gio Gonzalez and veteran reliever Jonathan Papelbon. As noted by NBCSports.com, Baker's reputation for handling pitchers is shaky, but given Maddux's track record it seems likely he'll have most of the control over the staff.
In a statement made last week regarding the situation, Rangers GM Jon Daniels said, "Mike did a lot of good in that regard in helping us change the mindset. Mike worked hard at creating a confidence level in the staff and the organization that if you go out, put your work in and execute your pitches, you're going to have success."
The Rangers are expected to replace Mike with Doug Brocail, who spent the 2015 season as a Double-A pitching coach in the Houston Astros farm system.