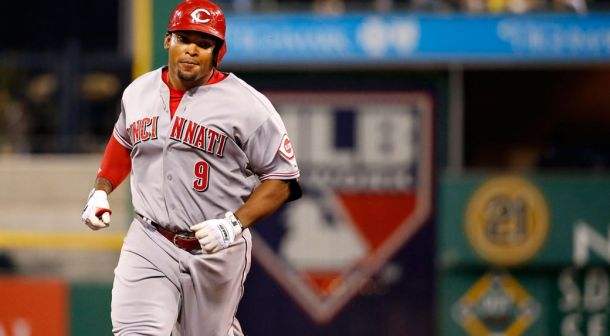 Outfielders Marlon Byrd and Norichika "Nori" Aoki will not be returning to the San Francisco Giants in 2016 as the club has declined both their options, according to a club announcement on Wednesday night.
The news was first reported by Andrew Baggarly of the San Jose Mercury News and CSN Bay Area's Alex Pavlovic. Both are sure to get looked at by several different teams as free agency is just around the corner and looks to kick off on a positive note.
Aoki, who was signed to a one-year contract back on January 20th, has an option which is worth $5.5 million and it will be bought out for $700,000, while Byrd was acquired from the Cincinnati Reds on August 20th and his option didn't include a buyout.
Byrd's contract included an $8 million vesting option and needed to reach 550 plate appearances for it to kick in for the 2016 season. He fell just six plate appearances shy as he did deal with a wrist fracture that kept him out a short period of time but didn't lead to a stint on the disabled list.
Aoki had a strong 2015 season, but it was cut short due to concussion like symptoms. He hit .287 with five home runs and 26 RBI's in 392 plate appearances while having stolen 14 bases.
On the other hand, Byrd was a solid contributor once he came to San Francisco as he hit .272 with four home runs and 31 RBI's in 147 plate appearances, totaling 39 games played.
There is a possibility that the Giants could bring Aoki back for the coming season, though it seems unlikely as the club is not showing any interest for the time being.
If it were to happen, however, it would have to be a bigger deal rather than the $5.5 million he agreed to prior to the 2015 season. Baggarly notes, that the reason he was given a smaller contract then he was deserved was because the team was not comfortable committing to the 33-year-old as their regular left fielder.
As Pavlovic noted, Giants GM Bobby Evans said that right now, the club's focus is on, "keeping our options open in a number of areas."
When asked about Aoki coming back, Evans said, "The timing is bad because we have a lot of things to address this winter and a lot of things we want to look at, and it's about keeping our options open. To predetermine left field today is just premature."
One of the possible candidates that San Francisco could have communications with is Alex Gordon who had his contract declined by the Kansas City Royals last night. Gordon, 31, spent the past nine seasons with the team, having appeared in a total of 1,136 games while hitting .269 with 134 home runs and 523 RBI's in a total of 4,818 plate appearances.
Byrd was traded to San Francisco Giants from the Cincinnati Reds back in August as part of a waiver deal in which the Reds received minor-league RHP Stephen Johnson in exchange.
Byrd was brought aboard to hold the spot of Hunter Pence, who suffered a shoulder injury, leading the 38-year-old to extra playing time heading into the final week of 2015.