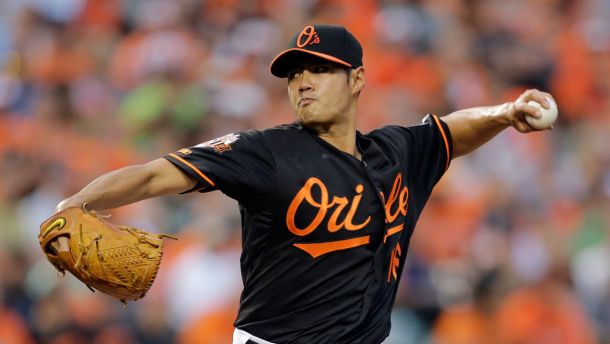 The Baltimore Orioles are set to extend a qualifying offer to Taiwanese left-hander Wei-Yin Chen, the team reported on Friday afternoon.
Chen will have a week to decide what to do: accept the offer or not. Should it be declined, Chen will be leaving the organization he came up with and the team he signs with will have to forfeit its top unprotected draft pick, while the Orioles would get a compensatory pick at the end of the first round of the MLB Draft in June.
Chen is likely to decline as he is arguably the most underrated starting pitcher in the Major Leagues. At least one team is bound to notice that and make a nice multi-year offer to the lefty.
If he does not come back on the qualifying offer, Chen and the Orioles could link up for a deal this winter, which would offer more than one year.
Chen joined the Baltimore rotation back in 2012. Over the course of this past season, Chen has pitched with a 3.34 ERA in 191.1 innings having given up 78 runs on 192 hits, 28 of those being home runs while striking out 153 hitters.
Alongside Chen, the Orioles have extended $15.8 million qualifying offers to first baseman Chris Davis and catcher Matt Wieters.
Teams must make their departing players a qualifying offer in order to be eligible for draft pick compensation if a player signs a major league contract elsewhere before the amateur draft in June.
Chen went 11-8 with a 3.34 ERA in 31 starts in 2015. He added a 153-to-41 strikeout-to-walk ratio in over 191.1 innings for the O's.
On another note, the Orioles selected the contract of left-hander Chris Jones from Triple-A Norfolk on Friday.
If Chen returns, he will play a big role as one of the main factors leading to many more winning seasons to come, which hopefully come with punched tickets to the playoffs for Baltimore.