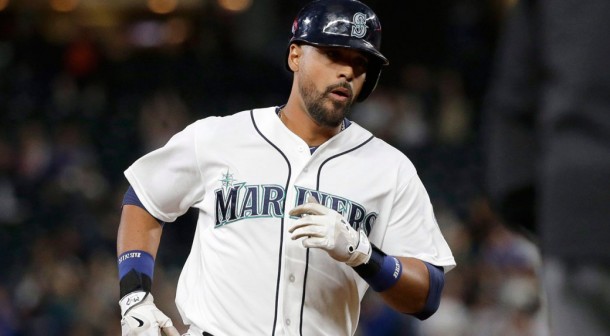 The Seattle Mariners have agreed to terms on a one-year deal with veteran outfielder Franklin Gutierrez, according to a report from USA Today's Bob Nightengale on Wednesday night.
The club officially announced the deal not long after the initial report was put out as the news comes after what many have called a "surprisingly productive" 2015 season. Terms of his contract have not yet been released.
It is said to be a major league contract for the upcoming season as Franklin looks to stay healthy and strong this offseason in order to have what he and the organization hope is a breakout season.
In 2014, Gutierrez definitely struggled with regards to his health but was able to pull it out through 2015 having hit .292 with 15 home runs and 35 RBI in 59 games played at the big league stage.
The former Gold Glove winning center fielder has faced a lot of adversity through the course of the 2011-2013 seasons, having battled stomach issues as well as some injuries limiting him to only 173 games over that time span. Gutierrez has needed six different stints on the disabled list during that time.
While he was feeling the strength from within him, Franklin had a .354 on-base percentage and .974 OPS. Gutierrez started the season with the team's Triple-A affiliate in Tacoma where he played 48 games before being called up to join the big-league club.
As mentioned by the Seattle Times, Gutierrez signed a minor-league contract with the club last season which included an invite to spring training after having dealt with the effects of Ankylosing Spondylitis (an arthritic condition in the lower body).
While in Tacoma, Franklin worked to find his timing again alongside determining the best preparation, rest and recovery plan to deal with his condition. He joined the Mariners on June 24 and certainly made the most of his time as a platoon left fielder/designated hitter, hitting .292 (50-171) in 59 games played with 11 doubles, 15 homers, 35 RBI and a .620 slugging percentage — second highest in baseball.
He did particularly well against left-handers which gave him a spot in the Mariners history books as he is fifth all-time with a 11.54 batting ratio. This was also recorded as second-best in MLB in 2015 behind Giancarlo Stanton (10.33). Gutierrez hit .309 (34-for-110) with six doubles, 12 home runs and 27 RBI in his final 35 games.
Franklin is considered an everyday outfielder with limited range given the concerns of his health, which doesn't allow him to make the impossible look easy like he once did.
When asked about his playing time in September, he said, "I think the way they are using me right now is the way I'm able to play. If I'm going more consecutive days, that's when I start to feel tired every day, and that's when things happen."
In 2013, Gutierrez played only 41 games which required two stints on the disabled list over that time as he recovered from a hamstring injury, while continuing to deal with Ankylosing Spondylitis.
Given his diagnosis, the medication he was handed has definitely played a large role in getting him back to the game he loves. This time around, the 32-year-old will be heading to spring training with more certainty than a year ago.