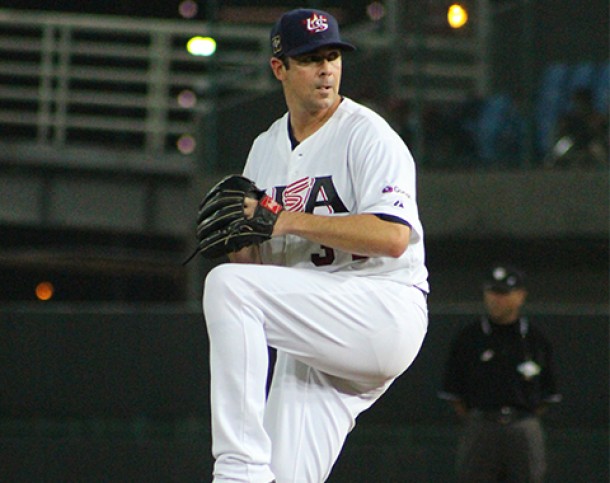 The United States of America got off on the right foot, but took too many steps back in their 10-2 loss to Japan in the WBSC Premier 12 at Taoyuan International Baseball Stadium in Taoyuan City, Taiwan.
The first-of-two came off the bat of Matt McBride (Colorado Rockies). He sent a solo home run over the left field wall to give the United States a 1-0 lead over Japan. McBride, who finished 5-for-5 against Mexico, was 1-for-4 with a run scored and RBI against Japan.
It seemed like a possible upset miracle as the U.S. packed on another run. This time, Brett Eibner (Kansas City Royals) hit an RBI single to dive in Adam Frazier (Pittsburgh Pirates) in the third inning to take a 2-0 lead. Eibner has been on fire with an RBI in all four Premier 12 games.
Yoshitmoto Tsutsugo knocked in the first Japanese run with an RBI double with two outs in the fourth inning.
Starting pitcher Jarrett Grube (Cleveland Indians) was outstanding in the loss, but his bullpen could not help his cause. Grube went 5.0 innings, while allowing one run on four hits with two strikeouts.
After lasting only three batters, Seth Simmons (Arizona Diamondbacks) tossed the ball to Dana Eveland (Baltimore Orioles), who was asked to get USA out of a tight game against Japan. Eveland gave up an RBI single, followed by a three-run shot to give Japan a 5-2 lead in the sixth inning. It was the first lead of the game for Japan, and they never let up.
The multiple pitchers gave up three straights walks in the seventh and then an RBI single to Japan, who increased their lead to 6-2. Then, Nobuhiro Matsuda cleared the bases with a grand slam to left field to give Japan a 10-2 lead over the United States.
In the first three games, the United States gave up seven walks. Against Japan, Team USA gave up six walks. The U.S. was dominant early, but could not find any offense or defense late in the game.
With the loss, the United States have dropped to 2-2 in Group B play, while Japan is 4-0. Team USA will face Korea (3-1) at Tianmu Baseball Stadium in Taipei, Taiwan on Sunday at 5:00 AM ET. Meanwhile, Japan will battle Venezuela (0-4).
Because Mexico (2-2) lost on Saturday, the U.S. will automatically play on Monday in the quarterfinal match. The four winniners of eight matchups will head to Tokyo, Japan for the semifinals and finals of the WBSC Premier 12 Championship.