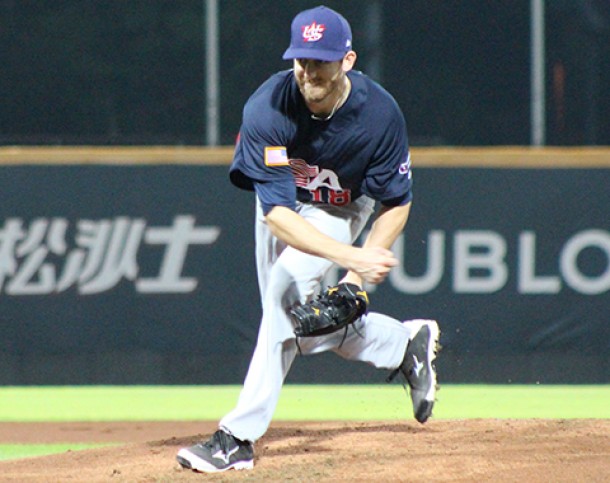 The United States of America ended Group B play on a winning-note with a 3-2 victory over Korea at a windy Tianamu Baseball Stadium in Tiwan.
Through the first four innings, the game was scoreless. It was Zeke Spruill (Boston Red Sox) who kept the game scoreless. He gave three hits and two walks over 6.0 innings of scoreless baseball. Spruill struck out seven Korean batters.
The first run of the game came off the bat of Tyler Pastornicky (Philadelphia Phillies) in the fifth inning. Later in the inning, Dan Rohlfing (New York Mets) added another RBI single to give the United States a 2-0 lead over Korea.
After John Church (New York Mets) replaced Spruill, Korea scored two runs on a hit and two walks. In the middle of the seventh, Church was replaced by JB Wendelken (Chicago White Sox), who easily recorded the final two outs of the inning.
Joey DeNato (Philadelphia Phillies) and Jake Barrett (Diamondbacks) got the job done in the eighth and turned the ball over to Seth Simmons (Arizona Diamondbacks) for the ninth inning. Simmons dug himself into a bases loaded jam, but worked his way out to send the game to extra innings.
Extra innings brought about the international tie-break rules, which place a runner on first and second to start each inning.
The U.S. placed Jacob May (Chicago White Sox) and Elliot Soto (Miami Marlins) on first and second. Adam Frazier (Pittsburgh Pirates) bunted into a double play, but he stole second to give America a slight chance to take the lead.
Brett Eibner (Kansas City Royals) was 0-for- 4 with four strikeouts going into the at-bat with two outs. The 26-year-old was the hero agianst Korea with an RBI single between seond base and first base. The centerfielder has an RBI in all five Premier 12 games.
Simmons came out for the 10th and loaded the bases with two outs. Simmons got Minho Kang to ground out to first base and end the game. Simmons got the win, while Kyumin Woo took the loss for Korea.
With the victory, the United States finished as the second seed in Group B with a 3-2 record. Meanwhile, Korea dropped to 3-2 and take the third seed into the quarterfinals.
Korea will play Cuba (3-2) on Monday at 5:30 PM ET. W. Chang gets the nod for Korea, who will be opposed by F. Montieth of Cuba.
On Sunday at 11:30 PM ET, the United States will play the Netherlands (3-2) in the WBSC Premier 12 quarterfinals. Zack Segovia will toe the slab for Team USA. Segovia will be opposed by Jiar Jurrjens of the Netherlands.
The quarterfinal winners will head to Tokyo, Japan for the semifinals of the WBSC Premier 12 at the Tokyo Dome.