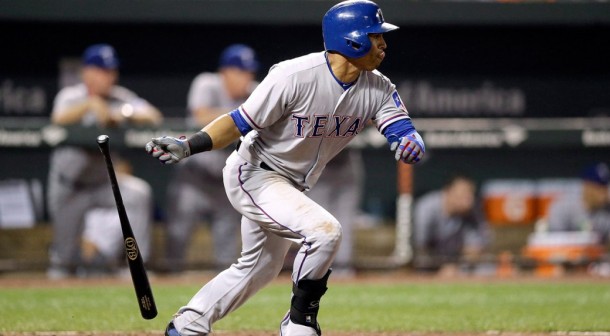 The Seattle Mariners have acquired OF Leonys Martin from the Texas Rangers, according to a report from Jeff Passan of Yahoo Sports on Monday afternoon.
Heading to Seattle alongside Martin is RHP Anthony Bass. Headed to Texas in return is RHP Tom Wilhelmsen, OF James Jones and a player to be named later.
It is said that the Mariners have conducted a very thorough search for a new center fielder and with Martin on the market. New general manager Jerry DiPoto felt it was appropriate to take advantage of the opportunity and see if he was the right man for the job.
The Mariners are a club who will be re-stacking their bullpen over the course of the offseason bring along Anthony Bass from Texas where the club was drawing interest in some of their relievers. With the acquisition of Wilhelmsen, it is entirely possible that he may not stick around for long as a potential deal could be on the verge of happening.
As noted by Ken Rosenthal of Fox Sports, Martin is under control for the next three seasons while Wilhelmsen has two under his belt.
The Rangers felt that loosing Leonys was ideally the best possible scenario as the quick emergence of Delino DeShields is something they would rather keep with as he is great both offensively and defensively, and there is legacy in his family dating back to the days in which his dad played the game. The Mariners on the other hand had no use for Wilhelmsen who has struggled in the recent past and could succeed elsewhere and has a power arm in which has shown he is capable of doing so.
Looking at the additional throw-ins, James Jones is ultimately the cheaper version of Martin as he is an aggressive base runner which is one of his special skills alongside knowing the right way to play the outfield and he is more controllable as well. Jones is likely to be used primarily off the bench as a pinch runner as he is the fourth outfield option behind DeShields who is likely to be the starter for the upcoming season.
On the Bass side of things, he provides a strong arm in a bullpen backed by guys in which includes RHP Fernando Rodney, RHP Joaquin Benoit who just came over from San Diego, LHP Vidal Nuno, LHP Charlie Furbush, and LHP Rob Rasmussen. Over the course of 2015, he posted a 4.50 ERA in 33 games while having given up 33 runs on 66 hits with only five of those having been on home runs.
Both teams who are just at the start of the re-booting process will look to acquire big names as competing for October is something of which all teams have in mind right now including such a guy like DiPoto who has done so with the Los Angeles Angels in the past.