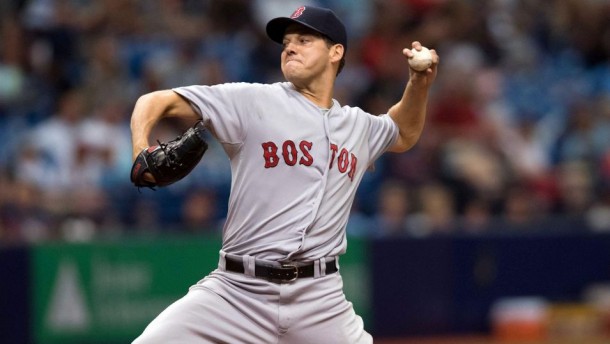 The Oakland Athletics have agreed to terms on a one-year, $6MM contract with free agent veteran left-hander Rich Hill, according to a report from Jeff Passan of Yahoo Sports on Tuesday night.
At this time, the deal is currently pending a physical. Hill was said to have a big market going into the offseason as one team had mentioned the fact that they had a bigger money offer on table than Oakland's. What Rich liked about the idea of signing with the Athletics is the guaranteed rotation spot.
As Passan notes, multiple teams have expressed significant interest in veteran right-hander Jesse Chavez of late and it is possible that he may be moved after bringing Hill aboard.
Rob Bradford of WEEI.com reported yesterday that Hill was likely to be signing a contract at some point this week.
Hill, 35, spent part of the 2015 season with the Boston Red Sox before making the transition to the Long Island Ducks of the International League. Over his time in Boston, he pitched with a 1.55 ERA alongside a record of 2-1 having made only four starts.
Over the course of Hill's 11-year career, he has been with six teams which include the Cleveland Indians, Washington Nationals, Chicago Cubs, New York Yankees, and Los Angeles Angels.
Hill was let go from Washington's Triple-A affiliate during the summer as the club had decided that he would not be joining the big-league club anytime soon, serving no purpose of keeping him in the organization.
Hill has had two different stints in Boston adding up to a total of three years with the organization where he has only pitched in 31 2/3 innings at the big-league stage, having spent the rest of that time with the club's Triple-A affiliate in Pawtucket where he got off to a strong start.
Hill is likely to join a rotation which consists of RHP Sonny Gray leading it alongside Jesse Chavez if he stays put as well as some young arms such as LHP Jesse Hahn, RHP Chris Bassitt, RHP Kendall Graveman, LHP Sean Nolin, and RHP Aaron Brooks. Those who could steal spots in the rotation once healthy again and back in game action include RHP's Jarrod Parker and A.J. Griffin who have both missed time due to arm surgery. As manager Bob Melvin notes, LHP Drew Pomeranz remains an option but is likely to join the bullpen for the upcoming season.