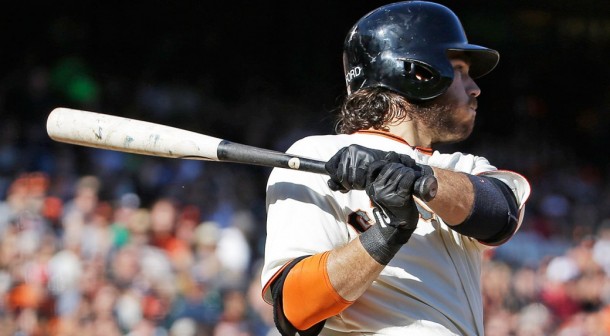 The San Francisco Giants have agreed to terms on a six-year extension with infielder Brandon Crawford, according to a club announcement on Tuesday night.
This deal will keep Crawford in San Francisco through the 2021 season. Crawford is set to receive $75 million along with a full no-trade clause in this deal.
As noted by MLBTradeRumors, the deal which keeps him until his age 34 season, buys out Crawford's final two arbitration seasons and four free-agent years.
As reported by Andrew Baggarly of the San Jose Mercury News, Crawford will receive a $1.2 million signing bonus before earning $5.8 million in 2016, followed up by $8 million in 2017. This adds up to approximately $15 million per season from the 2018 season looking ahead to 2021 which are his years of free agency.
Crawford has been known as one of the best shortstop's in the game, as he has proven that each and everyday for the past five seasons. He was rewarded with his first Gold Glove this season, and it's well deserved as he has saved 42 runs defensively, dating back to 2012. Offensively, Crawford is strong at the dish with a strong eye for the right pitches as he is an isolated hitter who's batting average continues to increase by the season.
As part of this deal, the Giants are not looking for a 20 home run season to justify the amount of money in which he is set to earn looking towards the future, as his defense is the bigger portion as to the original thought behind signing the 28-year-old to an extension.
Over the course of the 2015 season, Crawford managed to hit .246/.313/.383 with 21 home runs and 84 RBI's alongside six steals. Crawford made his first All-Star appearance this season and was voted as the winner of this year's National League Silver Slugger Award and the aforementioned Gold Glove Award, both in which were the first of his young career.